Summary:
Open source software and tools have consistently grown in quality over the years and now offers more than just an attractive price point. By integrating these tools with existing enterprise ALM tools, developers can see their workload decrease across the entire enterprise level.
Development managers at large organizations with monolithic application lifecycle management (ALM) stacks once had it good.  Change and configuration management tools were well-integrated, played nicely with one another, and when they didn't, there was someone to call.  But over the past decade open source tools have moved in, popularized by developers' demand for lighter-weight collaboration and change management facilities.  At a cheap or free price point, these tools were often deployed without the IT department's knowledge or approval.  This article examines the benefits that open source ALM and tools has brought to developer productivity, and discusses the problems that many organizations are experiencing with the lack of integration between these tools and the rest of their ALM and CM stack.
Thanks to a combination of resource constraints, a preference for using open source technologies for open source development, and the common desire for developers to sharpen and extend their own toolset, the past decade has delivered major innovations on the front of open source ALM tools.  As open source project portals have matured, so have the ALM tools that support them.  Consider the scale of the open source ALM stack that supports Eclipse.org: 33M lines of code in the 2010 last coordinated release (733 installable features/components), 330K total Bugzilla reports (3K new each month), 107K Bugzilla users (5K active last 30 days), 1K committers (400 active), 300 projects and 173 Hudson build jobs.  Add to that dozens of interdependencies between Eclipse projects and other open source projects such as popular Apache libraries, and downstream dependencies from commercial offerings built on Eclipse.  ALM on Eclipse is managed entirely with open source tools including Bugzilla, CVS, Git, Hudson, MediaWiki and Mylyn.
The 1,948 respondents to the 2010 Eclipse Community Survey provide an overview of the degree to which open source ALM tools have percolated into the commercial software development process.  The striking pattern is that the core open source ALM tools, when combined, have the market lead in each of three key ALM categories visible in the figure below.  While surveys of this sort are always skewed towards the type of developer who bothers to answer surveys, this result remains indicative of a shift in application development practices and open source ALM market share. Notably only a small fraction of the survey respondents were directly involved with Eclipse, and half were from organizations with more than 100 employees. In 2011, this open source trend will continue as these tools percolate into the ALM stacks of more conservative organizations.  A degree or two of separation from their open source enthusiast counterparts, many of the developers at those organizations will not be familiar with the Git tool before a DVCS solution is force fed to them.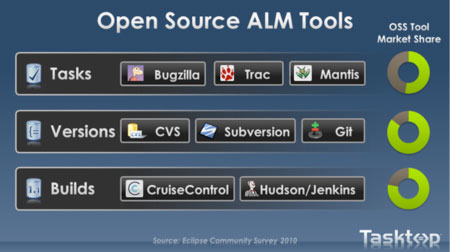 The attraction to open source ALM is not just price point, but the amount of innovation that has been created by open source developers building tools to support their own productivity patterns.  The ecosystem of extensions that forms around popular open source projects has been another key driver of adoption.  In addition to these developer friendliness and the availability of extensions, organizations with long application lifecycles are attracted to open source ALM tools because a suitable open source license gives them confidence that they will be able to access and extend the knowledge base represented by their issue tracker ten years from now, when the landscape of ALM vendors will have changed.
Open source ALM tools are built on developer-centric principles.  Transparency is favoured over hierarchy, with very task and bug on Eclipse and Mozilla being editable by anyone.  Asynchronous collaboration and a constant use of the task