anything since the ones disturbing them don't care about commitment. A commitment you can't control gives either frustration and stress or demotivation.
Kanban for support and operation teams
Support and operation teams are often interrupted. It's part of their job. Frustration comes when interruptions are happening just because there were no time for pre-emptive work. Just by having the pre-emptive work on the board gives focus to fix the hardest problems one-by-one, which gives less interruptions and more time to work pre-emptively. It becomes a good circle.
A Kanban board for an operation team can look like this: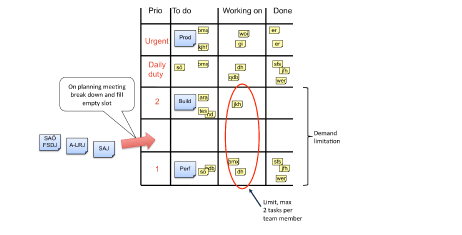 Most important are the urgent problems that arise. Secondly, daily duties must be done. Then the team members can take care of other projects, usually to improve stability in the operation environment. The limitation on the number of parallel tasks gives focus to be done working on improvements, not just starting them.
Many options gives freedom
Kanban is simple with few constraints, which gives you freedom to change your process step by step. Either you go from waterfall or chaos, your first step is to visualize and limit your flow with a Kanban board. When you have your flow visualized you add whatever work is needed to thrill your customers. Your improvements might be decided during a monthly retrospective meeting or on a daily meeting.
Conclusion
I still can't make up my mind if I like Kanban or Scrum the most. My conclusion is, not very surprisingly, that it depends on the situation. See them as two different tools and find out which tool is the best for your situation. Maybe you start with Kanban and end up with Scrum or maybe you don't. Maybe you'll start with Scrum but change to something more like Kanban. Whatever you do, just make sure you do what is best for your customers.
---
About the Author
Tomas Björkholm is living in Stockholm, Sweden. He's working at Crisp where he is helping companies becoming efficient by implementing Agile and Lean. Some of the pictures are made by Henrik Kniberg at Crisp. Thanks for letting me use them.