Summary:
Get a head start on your New Year's resolution. Hone your business analysis skills or learn new ones, and make 2012 the highlight of your career.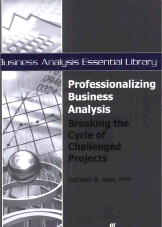 Professionalizing Business Analysis
Author: Kathleen B. Hass, PMP
Publisher: Management Concepts
Published: 2008
ISBN: 1567262082
Reviewed by: Stuart M. Miller
Professionalizing Business Analysis is a good read for someone interested in becoming a business analyst or someone who is already working in the field and wants some guidance on furthering their career. It outlines the responsibilities of an analyst at every level of the organization.
The author, Kathleen B. Hass, PMP, breaks the book into three sections. The first gives some background on how the business analyst role has evolved through the years. The second introduces the reader to the functions of a business analyst in today's workplace. Finally, Hass discusses how issues like organizational structure and development methodology can impact the role of a business analyst. In each section, table inserts help the reader understand the activities expected of an analyst at each level (associate, intermediate, senior, strategic).
Many of the activities listed in the book seem to assume a waterfall development methodology; however, Hass does touch on the role the analyst plays in an organization using agile development.
The title of this book suggests it contains strategies for business analysts to use, that would help them overcome challenging projects. That isn't the case. Instead, the book focuses on the role definition of a business analyst. There is still value, as anyone in a BA role who performs the activities described for their level will likely overcome many failures that others might not.
I found the end of the book slightly disappointing, as it concluded with the introduction of a business analyst's capability maturity model created by the author.
If I were to rewrite this book, I would have included strategies for overcoming common BA hurdles in projects. I also would have included real-world examples and more information about the value of measuring and improving your company's capability as defined by the model.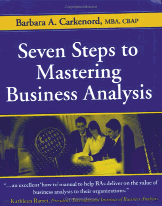 Seven Steps to Mastering Business Analysis
Author: Barbara A. Carkenord
Publisher: J. Ross Publishing
Published: 2008
ISBN: 1604270071
Reviewed by: Cathy Bell
Barbara A. Carkenord does a great job of helping to define the skills of a professional business analyst and also helps to explain why a business analyst wears many hats throughout his career. Mixed in with these essential skills is sage advice including "case-in-point" snippets, real-life examples that enforce the lesson at hand.
The International Institute of Business Analysis is a nonprofit organization that is striving to develop standards for the business analyst profession. The organization wrote A Guide to the Business Analysis Body of Knowledge (BABOK) , to which Carkenord says her book is an additional tool. She provides a chart that shows what pages contain sections covering the BABOK. Yet Carkenord covers the knowledge areas from a different perspective by grouping together topics from the various BABOK areas to help teach the concepts of business analysis.
This book also serves as a mentor, since the author tells us how to advance in the ranks of this profession by asking to be assigned to different business units, different applications, and different software development teams. For readers wondering if they could become good business analysts, the author provides a "suitability questionnaire." The questions, to which you answer either agree or disagree, include, "I am good at negotiating solutions between two other people" and "When I give a formal presentation, attendees understand my message." The author explains that although this is not a scientific assessment, it should help you decide to pursue—or not—a career in business analysis.
The book covers the basics and defines key terms so that readers build and work from a