Summary:
More than 1,800 industry professionals responded to the third annual STQE/StickyMinds salary poll. The results suggest that, although it has been an unsettling year, the picture doesn't look all that bad for software QA professionals.
What are you worth? When we asked that question a year ago, it was to fill a gap in other IT magazines' salary questionnaires; most of them ignored many of the job titles held by STQE readers. The results were interesting—and made us wonder how our community has weathered the ups and downs of the last twelve months. More than 1,800 industry professionals logged on to our sister site, StickyMinds.com, to answer that question—weighing in on their current salaries, compensation, and other benefits. The results, while relying on a self-selected response group, do highlight some interesting things about testers' and QA professionals' compensation picture in 2001.
No news flash that it's been an unsettling year. Dotcom busts, stock market slumps, and skittishness about spending IT dollars in an uncertain economy would seem to point to shaky salaries, but several recent technology salary polls, including those by InformationWeek and STQE, indicate that overall salaries remain robust.
Who and How Much
Workers in the field of software—and the readers of STQE and StickyMinds.com—are a diverse population, and this survey told us a little bit about who you are. For one thing, you've gotten to where you are now through a mix of on the-job experience and education, with almost 70% of our survey respondents having college degrees:
Some college         26%
Bachelor's degree 51%
Master's degree     17%
Doctoral degree       1%
Non-degree education figures into the picture, too, as over half of STQE readers are offered tuition and/or certification reimbursement as a job benefit. While industry consensus on a universally recognized professional certification for testing/QA still seems years away, 14% of survey participants aren't waiting on a worldwide standard, and reported holding some professional certification. As in 2000, most of these readers listed titles issued by the Quality Assurance Institute and the American Society for Quality. Quite a few readers also completed vendor-certified training on Microsoft, Novell, Mercury, and Java applications.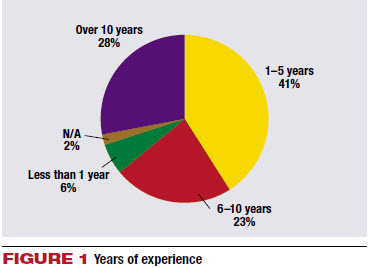 This year's respondents were slightly older (30% of respondents are over forty, compared to 23% last year) and more experienced—with 51% having six years or more of experience in the field of software testing and/or quality assurance, versus 35% last year (see Figure 1). Across a range of job titles and functions, most survey participants described themselves as either test managers/test leads, QA staff/analysts, testers, or QA managers (see Figure 2).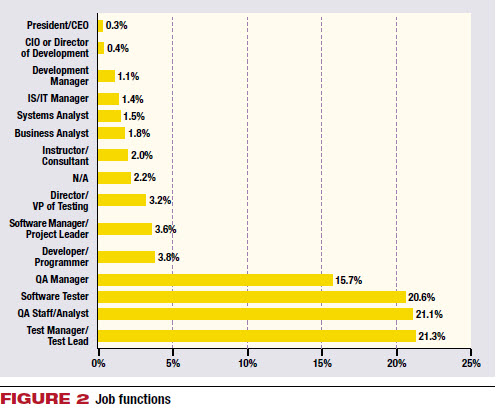 In these uncertain times, long-term job stability (or inertia, depending on your viewpoint) increased 6% from last year, with 16% of our readers having been with their current employer for more than five years (see Figure 3). Correspondingly, the number of respondents who have been with their current employer less than a year decreased from 42% to 35%.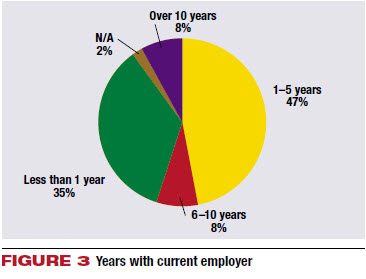 Our readership seems to be in line with the general gender skew of the IT field, with men making up 57% of our readership. And when we tallied total salaries in this year's poll, the results were consistent with last year's, showing no significant difference in salaries between equally experienced male and female staff.
Bottom Lines and Top Rungs
Annual salaries for non-management workers in our survey generally ranged between $50,000 and $70,000. Software testers and QA staff/analysts pulled down roughly the same pay (see Figure 4), with developers, programmers, and systems analysts taking home a slightly more robust paycheck: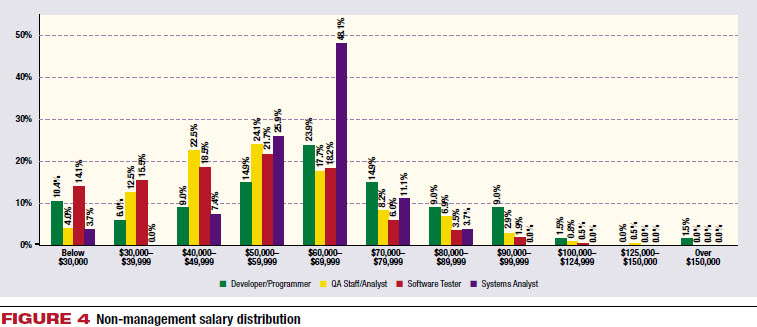 Median Salary Range
Developers/Programmers      $60,000–$69,999
QA Staff/Analysts                  $50,000–$59,999
Software Testers                   $50,000–$59,999
Systems Analysts                  $60,000–$69,999
Meanwhile, salaries for all our management job titles (QA managers, software managers, and test managers/leads) lined up within the same median salary range of $70,000 to $79,999, although individual salaries varied widely (see Figure 5, for details on