For each entry in data, we need to add a new var element to the settings:
    def process(data);
        for (var, params) in data:
        varNode = doc.createElement('var')
        varNode.setAttribute('name',var)
        root.appendChild(varNode)
        .    .    .    
    return doc
Similarly, for each parameter, we need to add a param element to the var element. We must also add a text node to the param element to store the parameter's value: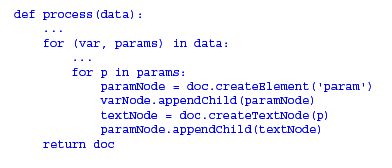 Great, except that when this document is converted into text for output, the result is:


There are no newlines or indentation to make it easy for human beings to read. We could easily insert them by adding text nodes in the right places, but there's no point since these files are only going to be read by other programs. In my next column, I'll explain how to merge your new XML data with a database.
Figure 1.