Then we looked at our work environment again. We changed the desk layouts, lowered our armrests and threw the drawers out like we did before, but this time suddenly everyone was pairing all the time. It was like watching ice turn instantly into vapor. We later made ourselves into the only team around us that wrote every line of code in pairs or even trios and our productivity skyrocketed - but that's another story..."
Team-K also started to communicate with the project sponsors as a community [#7]. By taking ownership of their own lack of collaboration, they removed the inertia [Obstacle #8]. By contributing their projects to the community, they were no longer isolated developers [#2]. Taking responsibility for the best outcome for the team moved the emphasis away from personal accountability [#1, #5]. They recognized that by delivering the critical projects as a community [#6], they would each individually enjoy the most success [#3, #4]. Team-K thus became a hyper-productive team.
The obstacles in Table 1 also affect the interaction between teams. Agile adoption in an enterprise is compromised by an environment where functional teams optimize for avoiding blame, rather than collaborate for project success.
Embracing a spirit of continuous improvement made a big difference in the Collaborative Interaction results achieved by Team-K. There is a group method for collaborative continuous improvement, which can bring structure to teams' collaborative endeavors.
Cooperative Inquiry
"Adopt [Agile] in small steps. Start with a small team and get experience in adoption. Most small teams that get appropriate coaching make the transition to Agile [...] well. Learn as you go. [...] You need to experience the practices for yourself and build up your own body of experience."
Elssamadisy (2007, p. 42).
This emphasis on learning from experience is a fundamental tenet of Cooperative Inquiry , the qualitative group research method created by John Heron and used in the Group Coherence research.
Cooperative Inquiry is carried out by a group of participants who inquire into their own experience to learn about a question that the group has formulated. It "involves two or more people researching a topic through their own experience of it, using a series of cycles in which they move between [their] experience and reflecting together on it. Each person is co-subject in the experience phases and co-researcher in the reflection phases" (Heron, 1996, p. 1)
As co-inquirers move through cycles of action and reflection, they use four ways of knowing to transform their direct experience into new knowledge and skills.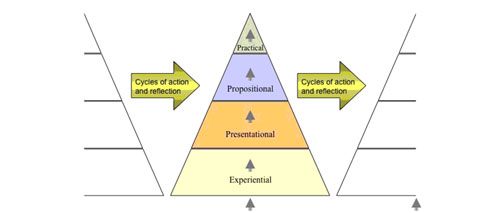 Figure 1: Multiple Ways of Knowing
Heron defines the four ways of knowing thus:
"Experiential knowing is evident when we meet and feel the presence of some energy, entity, person, place or thing. Presentational knowing is evident in our intuitive grasp of the significance of imaginal patterns as expressed in graphic, plastic, moving, musical and verbal art forms. Propositional knowing is expressed in intellectual statements, both verbal and numeric, organized in ways that do not infringe the rules of logic and evidence. Practical knowing is evident in knowing how to exercise a skill." (1996, p. 33)
The topic of the inquiry, taken through research cycles by the members of the group, builds on their knowledge through Practice (previous post). Eventually the four ways of knowing, by providing differing perspectives on the research question, offer emergent congruent knowledge. This increases a team's ability to reach Group Coherence and completes the Cooperative Inquiry . Outcomes in Cooperative Inquiry provide a group with a "knack," a practical ability that restarts the cycle of continuous improvement.
Conclusion
Increasing the opportunities for participation within the