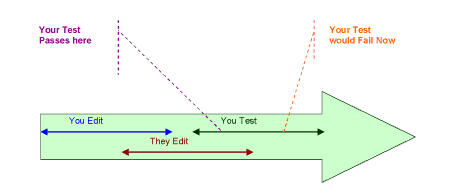 Figure 1: Phase Shifts and Testing
The team's manager, Beth, sees a problem in need of a solution and declares that henceforth the team shall use an integration token. Only one person shall perform a check-in at a time. The check-in process is:
Grab the integration token

Update your workspace from the codeline, resolving any conflicts

Run the test suite

When the test suite passes, check in the code

Pass the integration token on to the next person in the queue
The problem of conflict is resolved, but now Beth notices that the rate at which features are being added to the code is slowing down. Only one person can do a check-in every 2 hours or so, which means that, at most, 4 people can check in changes at once now. In reality it may be less because there will always be people with commitments after work meaning that they should not even start the check-in process less than 2 hours before they need to leave.
While trying to fix the immediate problem, Beth created a longer term problem. A lack of quality leads one to want more control, which reduces quality in another dimension. Figure 2 illustrates this. For some applications with critical systems and small teams, this approach may work well, but in many cases the dominant business need is to change the codeline to add features.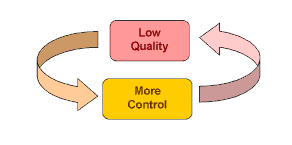 Figure 2: Feedback between control and quality
How do we fix this? We can follow both lean and agile principles (which, at their heart, are similar) and try to address the core problems: Facilitating flow and eliminating waste. Some of the SCM Patterns address this.