with the experienced Agile resources on each of the two new teams. The teams themselves should ideally hold "try-outs" for the new members to ensure that they are good fits for the established Agile team. This also builds trust with the teams that are already empowered to deliver business value using their own capacity. This is the ideal time to begin pulling resources from the silos, and dispersing them into Agile teams, creating an organic reorganization. Specialist skill sets can now be maintained by creating a new matrix organization that regularly pulls specialists together in order to synchronize how they implement their skills within the Agile teams. As collaborative Agile teams mature, cross-training naturally occurs, and an organization emerges that can adapt to changing staffing needs. This is the same "Agile Matrix" described in an earlier referenced article is shown in Figure 3.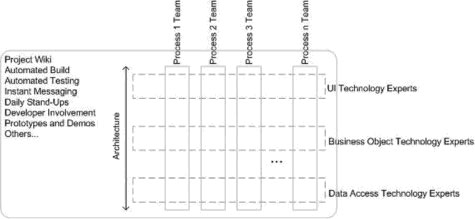 Figure 3. As Agile projects demonstrate success, the CIO should morph the organization into the Agile Matrix (from Kirk Knoernschild). This is essentially flipping the legacy enterprise organization on its side, and creating a matrix for specialists to group into their own respective teams while performing daily project work in the vertical product or line-of-business teams.
Summary
This article has presented characteristics and behaviors of the legacy enterprise organization, summarized here.
Warning signs and behaviors of legacy enterprise organizations:
Projects getting larger and slower.
Silos of specialists who are multi-tasked with multiple projects, who receive and create hand-offs.
Projects demonstrating high cost at commitment, brought about by detailed requirements gathering.
Organizations focused on resource loading instead of product development.
Separate production support groups that have little or no coupling with development teams.
Project teams that demonstrate simplest first features due to lack of prioritization.
Project managers requesting status tracking tools to ease burden of status reporting.
An Agile pilot approach to build trust and lay the foundation for a transformation of the organization has been suggested, along with successful strategies for setting an Agile pilot up for success. This approach should give the CIO a roadmap for creating an IT organization that is tightly coupled with business vision, and not distracted and slowed by over-engineering which results from silos of technical and process specialists, operating in a process-focused, non-collaborative environment.
---
[1] John Soat, "The Evolution of the CIO", Information Week, http://www.informationweek.com/story/showArticle.jhtml?articleID=203101647
[2] Bob Evans, "The Inexorable Rise Of The New CIO", Information Week, http://www.informationweek.com/story/showArticle.jhtml?articleID=203101599
[3] Scientific Wild A Guess (the reader is left with homework to discover what "A" represents)
[4] Jeff Sutherland, "Hyperproductivity in the First Scrum"
[5] See "The Agile-V Scorecard "