we have suppliers from outside organisations. These suppliers fulfil DSDM Team Lead and Solution Developer roles and are engaged and paid in fortnightly timeboxes. It is therefore beneficial to retain discrete work packages and not to conflate them with the plan.
The complete list of products are shown in Table 1, along with the DSDM Atern mappings we have identified.
| | |
| --- | --- |
| PRINCE2 Product | DSDM Product(s) represented |
| Management Strategies (Communication, Configuration, Quality, Risk) | Delivery Approach, Delivery Control Pack, System Testing Strategies, Management Foundations |
| Outline Business Case | Outline Business Case, Feasibility Assessment, Business Vision, Business Foundations, Business Area Definition |
| Business Case | Business Case |
| Risk Register | Risk Assessment |
| (Project) Product Description | Outline Solution, Solution Foundations, System Architecture Definition, Models |
| Project Plan | Outline Plan, Delivery Plan Deployment Plan, Business Deployment Plan, System Deployment Plan, Benefits Realisation Plan, Timebox Plan |
| Work Package | Solution Review Records, Timebox Review Record, Increment Review |
Table 1
The content of these products is entered into DEV Folio, which supports automatic PDF generation of the relevant documents. For example, in Figures 10 and 11 it can be seen that the Outline Business Case, Business Case, Project Plan, and Project Product Description are ready for generation. Clicking on the links results in the appropriate PDF being generated (see Figure 13)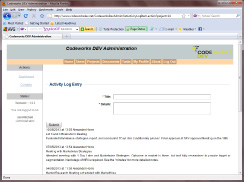 Figures 13 and 14
The Risk Register and Daily Log are handled differently. As can be seen from the Home screen in Figure 2, there is a direct link to these products. The Risks link, when clicked, opens up the Risk Register. It then shows the risk, dates, description, and actionee (See Figures 15 and 16). All of the risks for a particular project are rendered as a Probability Impact Grid (Figure 15). The Daily Log allows date stamped, signed entries to be appended (Figure 14).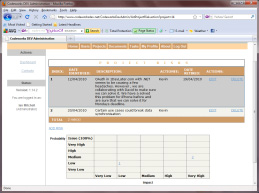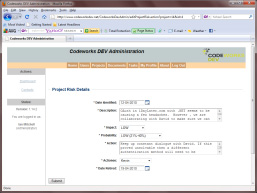 Figures 15 and 16
Solution, Feasibility, and Capability/Technique prototypes are, of course, the key deliverables of the process. The final documents produced are the Project Review Report, Lessons Report, and the Benefits Enablement Summary.
People and their roles
Without recourse to any particular terminology, these roles on our projects describe at least 5 different types of person. We have the client, the supplier(s), the project manager, the programme director, and the corporate board member. In PRINCE2 terms these represent the roles of Senior Responsible Owner, Supplier Team Manager, the Project Manager, the Executive, and Corporate.
A further 4 roles can be added from the PRINCE2 framework. There is the Senior User, Project Assurance, Quality Assurance and Senior Supplier. These 9 roles, and their mappings to DSDM Atern roles, are shown in Table 2.
One further role must be added, for which there is no PRINCE2 equivalent. This is the Administrator of the DEV Folio workflow engine.
| | | |
| --- | --- | --- |
| PRINCE2 Role | DSDM Atern Role(s) | Key Responsibilities |
| Senior Responsible Owner | Business Sponsor, Business Visionary | Owns Project Business Case, defines project business vision, approves changes to high level project requirements |
| Supplier Team Manager | Team Leader, Solution Developer | Concentrates the team to ensure on-time delivery. Manages risk at timebox level. Reports to Project Manager. Undertakes iterative development of the solution. Tests own output prior to independent testing. |
| Project Manager | Project Manager, Business Analyst, Atern Coach | Communicates with senior management, high level planning amp; scheduling, monitors progress, manages risk. Liaises between business and technical stakeholders. Manages documentation and products. Tailors Atern to suit projects and explains it to team members. |
| Executive | Business Sponsor, Business Visionary | Owns Programme Business Case, defines programme business vision |
| Corporate | Business Visionary | Approves changes to high level programme business requirements |
| Senior User | Business Ambassador, Solution Tester | Contributes to requirements, design and review sessions. Provides a business perspective. Describes |