on a fortnighty iterative-incremental basis. This stage therefore corresponds to the DSDM Atern Engineering Phase. The risk of each stakeholder would be limited to two weeks, which is also the billing cycle.
5. For the prototyping and pilot projects that we have focused on, Deployment is usually performed as part of each incremental release. Unlike DSDM Atern it does not typically involve a separate, discrete stage.
DSDM Atern also appeared to fit the bill at the level of the micro-process. During the Delivery Stage (i.e. the Atern Engineering Phase) the project manager, client, and supplier would be involved in round-trip gestalt design. The architectural requirements identified during Development (Atern's Exploration) cannot be frozen into a fixed vocabulary of scope. Further scope refinement and requirements discovery must be expected and supported during engineering work. The mappings we identified at the micro-level are a means of ensuring that Agile principles can be brought to bear when developing "in-the-small" and not just "in-the-large" (see Figure 4).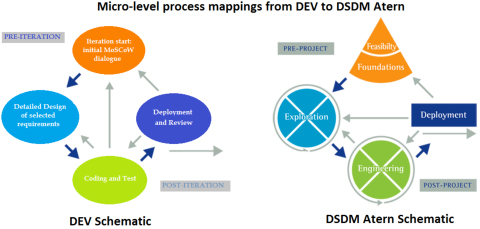 Figure 4
Conclusion, and next month's article
Agile Methods are often considered to be incompatible with high levels of process rigor. This perception has been encouraged in part by a misunderstanding of the terms of the Agile Manifesto, and partly by the assumption that Agility and rigor exist at opposite ends of a methodological spectrum. Such views are commonly held by Agile supporters and detractors alike.
In the past it has proven difficult to accommodate traditional and emergent approaches simultaneously. In this article some of the technical and cultural obstacles to progress have been presented. We've looked at the problems that are commonly associated with the implementation of Agile Methods in prescriptive environments, and shown how DSDM Atern provides a basis for PRINCE2 integration.
Next month we will look in more detail at the remedial approach adopted by Codeworks DEV, and show how a specialised, tool-supported, configurable toolset can be used to leverage Agile Methods across multiple PRINCE2 projects at both delivery and programme levels.
References
[Barron, 2003]. Barron, Kevin, et. al. "White Paper: Using DSDM and PRINCE2". The DSDM Consortium, 2003.
[Beck, 2001]. Beck, Kent, et. al. 2001."Manifesto for Agile Software Development". http://agilemanifesto.org/
[Binstock, 2009]. Binstock, Andrew. Software Development Times, 1 March 2009. "Integration Watch: The Zealots of Agile".
[Davidson, 2008]. Davidson, Michelle. Software Quality News, 27 June 2008. "Survey: Agile interest high, but waterfall still used by many". http://searchsoftwarequality.techtarget.com/news/article/0,289142,sid92_gci1318992,00.html
[Lacey, 2008]. Lacey, Mitch. Agile 2008 Conference. "When Working Software Is Not Enough: A Story of Project Failure". http://www.infoq.com/presentations/A-Story-of-Project-Failure-Mitch-Lacey
[Richards, 2007]. Richards, Keith. "Agile Project Management: Running PRINCE2 projects with DSDM Atern". The Stationery Office, London, 2007.