Summary:
How do you start with a product backlog when you're transitioning to agile? In this article, Darin Kalashian shows us how a cross-functional team at the product owner level creates a product backlog.
When a product development team begins to use the Scrum framework, one of the first objectives is to form a product backlog for the Scrum team to work off. The product backlog is the product owner's responsibility to oversee, though the product owner seldom has all the knowledge needed to define a high-value solution that will be successful in the marketplace. To create a useful backlog, the product owner must rely on supporting roles, such as system architects, management, and subject matter experts.
The Scrum Guide by Ken Schwaber and Jeff Sutherland, the originators of Scrum, lightly touches on how to groom the product backlog. As an experiment, our development team complemented The Scrum Guide with some additional events and artifacts to help ensure product grooming was performed to a level where sprint teams could go to the next step, sprint planning. Additionally, by inserting a definition of done for the grooming of product backlog items, we made it easier for the team to manage the quality. This article defines the high-level workflow used to streamline our execution of product backlog grooming.
Where to Start?
Just like every other team out there that has had to get ready for its first Scrum project kickoff, we did all the preparation—reading through The Scrum Guide, enrolling in formal Scrum training to better understand the fundamentals, and assigning the roles of product owner and ScrumMaster. We huddled back in the office, all literature'd up. We even organized a Sprint 0 to get everything set up and ready for kickoff. We thought we had a handle on it ... until we sat down with our product owner, sprint team, ScrumMaster, and various stakeholders and tried to make a plan out of our product backlog. We quickly realized that grooming our identified product backlog items wasn't as easy as we first thought.
In our environment the application is very complex, with multiple vendors, subsystems, and customer needs, not to mention our own roadmap and business objectives. It was unrealistic for the product owner to know it all. For the product owner to understand the business value of a customer request, we needed to pull in a larger, cross-functional team of system architects, business leaders, and others not typically part of a "traditional" grooming session. However, we agreed that having a grooming session with all of these roles present in addition to our development team would not be particularly productive.
As the coach of this Scrum team, I suggested that all of our stakeholders should huddle up and brainstorm some ideas on how to make product backlog grooming more effective. This collective team decided to experiment with breaking the product grooming activity into two separate, supporting activities. We termed these activities "product backlog planning" and "product backlog grooming session," as depicted in figure 1. While we did not want to squelch the team's emphasis on collaboration, we needed to make sure each contributor maximized his or her value and use of time.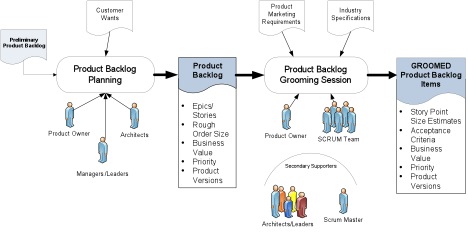 Figure 1. Product Grooming