The Product Owner in the Agile Enterprise: Part II
"Release"
Release Planning is the seminal enterprise event that regularly aligns the teams to a common vision and release objective and the Product Owner plays an active role. I've written about the Release Planning event extensively in my blog [2] and I won't belabor it here. . Prior to the event, the Product Owner will typically:
Update the team's local backlog.
Meet with other Product Owners to understand overall system status.
Meet with Product Managers to understand the vision for the upcoming release.
Brief the team on the upcoming release objectives.
During the event, the Product Owner will typically:
Help identify, prioritize and estimate stories that will be necessary to achieve the release objectives.
Help design the release plan by laying the stories into iterations.
Participate in the team's discussion, impediment and risk identification.
Identify and coordinate dependencies to ensure a cohesive solution
Participate in refining the release objectives and making a commitment to the release.
Collaboration with Product Managers
While the Release Planning event is one highly structured collaboration opportunity, the reality is that enterprise agility is most effective when Product Owners have a far more closely coupled relationship with product management. Indeed, I often recommend that Product Owners "report on a fat dotted.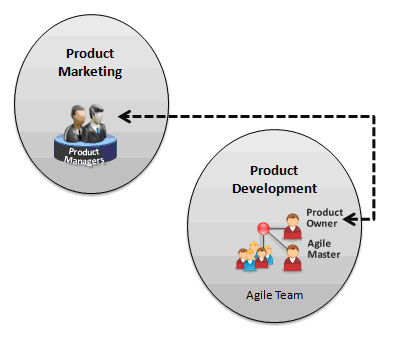 Figure 4 - "Fat Dotted Reporting line" to Product Management
line to product management" as Figure 4 shows.
From a line management perspective, Product Owners typically report into development. They:
Are collocated with the team.
Are rewarded, etc. based on how the team as a whole performs.
But they are also honorary members of the product management organization, where they :
Receive overall product direction.
Attend most relevant PM meetings, functions, and planning sessions.
Receive input with respect to career growth and performance.
Building the Ultimate Agile Product Owner/Product Manager Team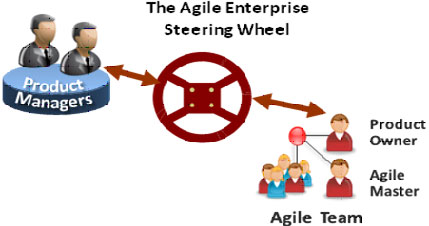 In this way, the enterprise has an extended steering wheel-from the portfolio-to the product management organization-to the project teams. Of course, making this work fairly seamlessly creates its own set of challenges.
In her Agile Product Owner blog [3], Jennifer Fawcett often reflects on the nature of these roles within the enterprise. She also notes the challenge in creating a highly effective working team. Recently, she commented on the agile Product Manager (APM) and agile Product Owner (APO) topic:
"Creating the Ultimate Product Team does not come without emotional challenges of adopting, coaching, and nurturing this high-performing team. Past processes, roles, and behaviors do not change overnight"
She goes on to provide tips for building Collaboration, Partnership and Trust as the essential ingredients for building the ultimate APM/APO team.
"Collaboration - Create an iteration cadence that supports daily collaboration. Allow for all meetings on the engineering cadence to be "open door". If Product Management cannot attend, Product Owners should summarize high-points in an email or minutes.
Partnership - Partnership between APMs and APOs is requisite. Ask your Product Managers; "How can I help?" For the most part, Product Managers are more than willing to take you up on it. Meet after stand-ups for a few moments to see if anything needs attention. Synchronize and communicate the ever-changing corporate priorities daily.
Trust - The foundation of building your ultimate team is to trust your colleagues and APM/APO partners to make the right decision. Be forewarned, that your APM/APO partner will sometimes make a decision that is opposite of yours. Support each other's decisions, so that teams know you are both empowered, and can be trusted with business decisions and authority."
Conclusion
In this article, I've described the attributes and responsibilities of the critical role the agile Product Owner plays in helping the enterprise meet