Summary:
Johan Jonasson and a host of others are responsible for starting the International Society for Software Testing. We sat down with Johan to learn more about the reasons for forming the new society and how the group plans to "oppose practices that dehumanize testing."
Noel : So, I was hoping you would be willing to explain a little about what went into the decision to form the ISST and what do you and the board hope to accomplish with it.
Johan : The four of us, Henke, Iain, Ilari, and I, all share a similar perspective on software testing and we have a clear idea that good software testing needs to emphasize value and the role that skilled testers play in its delivery. Unfortunately, even though we've seen some progress in our industry over the past decade, there are still a lot of consultants and organizations out there today advocating for practically the opposite: pre-planning, scripting and then throwing assembly line style workers at the job.
We hope to be able to help both the supply and demand side of this equation; by both supporting testers who want to improve their skills and craftsmanship and by engaging decision makers, such as project managers and senior management, to advocate for something different. Something based on skill, and routed in delivering information that is of value,
Noel : I was looking though the ISST's founding members—that's quite an impressive, lengthy list! What kinds of benefits and challenges (if any) does having a list of that size give your organization?
Johan : The response we've received from the community has been inspiring to say the least. We're very fortunate to have the backing of such a long list of fantastic testers who are already known for their engagement and commitment in the testing industry and global testing community. The ISST is nothing without its members and having this group on board from the start will make all the difference in deciding if our initiatives become successful or not.
Noel : I've already read some people online asking this question, so I'll ask it, too - what separates the ISST for other testing societies that are out there?
Johan : The principle differentiator is that we are taking an active advocacy stance. That means that we are deliberately seeking to reach out and influence decision makers, and other groups with an interest in testing. It means standing in open opposition to those who would commoditize testing. Secondly, we're truly global. We already have members on five continents, and Let's Test has a presence on two. Expect to see much more here.
Noel : One of the main objectives of the ISST is to "oppose practices that dehumanize testing." Why is testing dehumanized, and without getting yourself in trouble, are testing tool creators/developers/manufacturers partially responsible for marketing these tools in a way that minimizes the importance of the human factor that goes into testing?
Johan : We believe that testing needs to be more than a clerical activity of checking the implementation against explicit requirements. In reality, testing requires a thinking human being with a critical mind who is constantly looking to learn and discover new information about their context, and the quality of the product. This is not something that you can get from a tool. However, excellent testers use tools all the time, but they let their brain guide the use of the tools instead of the other way around.
That being said, there are a number of tool vendors out there who are indeed responsible for reinforcing bad mental models with their products. While we as an organization won't be targeting them specifically, we do hope to bring about change on the demand side of the equation, in the hope of upsetting the status quo.
Noel : I know we're in the very early days of the ISST, but if all goes well, what can we hopefully see from the organization in the not too distant future?
Johan : We are currently spreading the word about our mission through various publications, blogs and social media. Next we'll be launching a series of webinars on different testing topics that we'll kick off during the fall and that will be free of charge for anybody who's interested.
Within the coming month we'll be announcing a couple of advocacy initiatives, one of which will involve a review and position statement on the new ISO/IEC 29119 "definitive" software testing standard. Exclusively for members we'll also continue to offer heavy discounts on a number of conferences and training courses around the world. Be sure to keep an eye on our @intsst on Twitter for up to date information.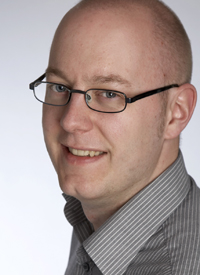 Johan Jonasson has worked as a test consultant and coach in Sweden since 2006. He's one of the co-founders of the consultant company House of Test, as well as one of the originators behind the Let's Test conferences. Johan is also one of the founding members of the regional testing network EAST, that has hosted regular lectures and workshops in his hometown of Linköping since its inception in 2011.