"Did you tell Vickie about the testing problems yesterday?" Mark asked.
Although Vickie wasn't eavesdropping, Mark's mentioning her name in the conversation on the other side of the cubicle wall caught her attention. When she heard Corinna furtively answer, "We're hoping to fix it before Vickie finds out," Vickie was crushed.
Though tempted to jump on her desk, peer over the wall, and remind them, "C'mon guys, you can be honest with me," Vickie instead reflected upon the implications of what she had just heard. Her team, or at least part of it, didn't trust her.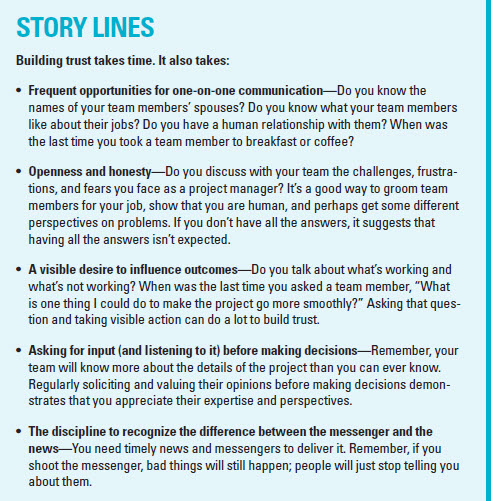 Vickie understood that distrust was a default aspect of some relationships, particularly those between people and their managers. Team members recognize the power managers have over their futures: work assignments, recognition, training, and sometimes even pay or promotions. It's natural that the power differential might sometimes discourage open and honest communication. Vickie also understood that relationships decay over time without proper care. She had assumed she was staying on top of building and sustaining relationships with her team members. The conversation on the other side of her wall suggested that assumption was wrong.
Vickie intended to have a personal relationship with each team member and provide regular opportunities for one-on-one communication to exchange ideas and air concerns, but she realized she had fallen behind. Weeds grow so quickly on communication paths.
She reflected on her history with Corinna. Beyond team status meetings, Vickie hadn't had much contact with Corinna since she joined the team six weeks earlier. For more than a month, Vickie had been rolling forward an action item on her calendar titled "Schedule coffee with Corinna" so she could meet one-on-one and see how the new test lead was settling into the project. Caught up in the day-to-day chaos of managing the project, Vickie hadn't yet made time to establish a relationship with Corinna.
Vickie made a point of stopping by Corinna's desk later that day. "Hi, Corinna, how are things going? Are you settling in OK?"
"Things are fine," Corinna replied.
"I've been swamped lately and realized that I haven't officially welcomed you to the project," Vickie said. "Do you have an hour or so during the next couple of days when we can meet for coffee or lunch?"
They made a lunch date for the following day.
At lunch, Vickie told Corinna about the origins of the project and some of its challenges, doing her best to establish a historical context for the project and answer Corinna's questions. Vickie asked Corinna about her background and the testing position she held with a previous firm, what challenges her previous projects had faced that were similar to their current project, and which were different. She asked Corinna if she had any processimprovement suggestions for the current project based upon her experiences to date. When Corinna mentioned that she had experience with a specific testing tool on her last project, Vickie asked her about the advantages and disadvantages of working with that tool and whether or not Corinna thought the tool might be applicable to their current project. Vickie also shared some of her own background and history and how she had come to be the project manager.
During lunch, they also talked about the different kinds of food they liked and swapped information about restaurants in the area. Vickie used this as an opportunity to decide where they would go for lunch when they next got together. When their lunch was over, Vickie officially welcomed Corinna to the team and encouraged her not to wait for their next lunch if she had questions, concerns, or suggestions. "I feel really fortunate to have someone with your experience on the team, Corinna," Vickie said as they parted.
Vickie knew that this was just the start of the dialogue with her test lead, but felt that she had begun catching up on her duties, maintaining communication paths and relationships with her team members. When she returned to her office, she added an action item to schedule lunch with Corinna at the restaurant they had discussed. Then she looked at her team roster and identified people she had not shared coffee or a meal with during the past month. She blocked early mornings on her calendar for the next two weeks and began sending email invitations to schedule coffee or breakfast, thinking to herself, "A gardener's work is never done."