What are you worth? When we asked that question a year ago, it was to fill a gap in other IT magazines' salary questionnaires; most of them ignored many of the job titles held by STQE readers. The results were interesting—and made us wonder how our community has weathered the ups and downs of the last twelve months. More than 1,800 industry professionals logged on to our sister site, StickyMinds.com, to answer that question—weighing in on their current salaries, compensation, and other benefits. The results, while relying on a self-selected response group, do highlight some interesting things about testers' and QA professionals' compensation picture in 2001.
No news flash that it's been an unsettling year. Dotcom busts, stock market slumps, and skittishness about spending IT dollars in an uncertain economy would seem to point to shaky salaries, but several recent technology salary polls, including those by InformationWeek and STQE, indicate that overall salaries remain robust.
Who and How Much
Workers in the field of software—and the readers of STQE and StickyMinds.com—are a diverse population, and this survey told us a little bit about who you are. For one thing, you've gotten to where you are now through a mix of on the-job experience and education, with almost 70% of our survey respondents having college degrees:
Some college         26%
Bachelor's degree 51%
Master's degree     17%
Doctoral degree       1%
Non-degree education figures into the picture, too, as over half of STQE readers are offered tuition and/or certification reimbursement as a job benefit. While industry consensus on a universally recognized professional certification for testing/QA still seems years away, 14% of survey participants aren't waiting on a worldwide standard, and reported holding some professional certification. As in 2000, most of these readers listed titles issued by the Quality Assurance Institute and the American Society for Quality. Quite a few readers also completed vendor-certified training on Microsoft, Novell, Mercury, and Java applications.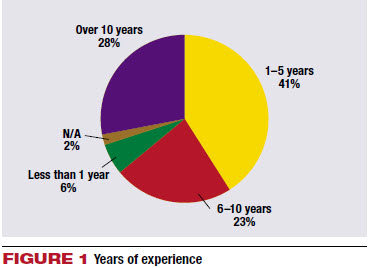 This year's respondents were slightly older (30% of respondents are over forty, compared to 23% last year) and more experienced—with 51% having six years or more of experience in the field of software testing and/or quality assurance, versus 35% last year (see Figure 1). Across a range of job titles and functions, most survey participants described themselves as either test managers/test leads, QA staff/analysts, testers, or QA managers (see Figure 2).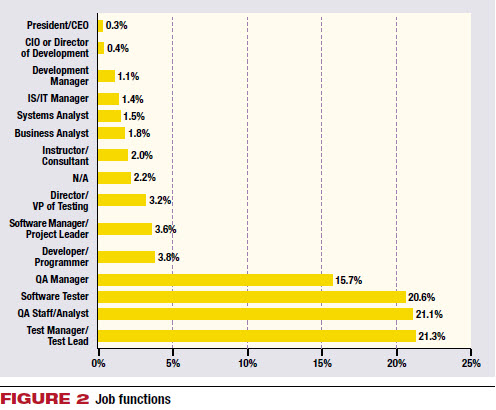 In these uncertain times, long-term job stability (or inertia, depending on your viewpoint) increased 6% from last year, with 16% of our readers having been with their current employer for more than five years (see Figure 3). Correspondingly, the number of respondents who have been with their current employer less than a year decreased from 42% to 35%.
Our readership seems to be in line with the general gender skew of the IT field, with men making up 57% of our readership. And when we tallied total salaries in this year's poll, the results were consistent with last year's, showing no significant difference in salaries between equally experienced male and female staff.
Bottom Lines and Top Rungs
Annual salaries for non-management workers in our survey generally ranged between $50,000 and $70,000. Software testers and QA staff/analysts pulled down roughly the same pay (see Figure 4), with developers, programmers, and systems analysts taking home a slightly more robust paycheck: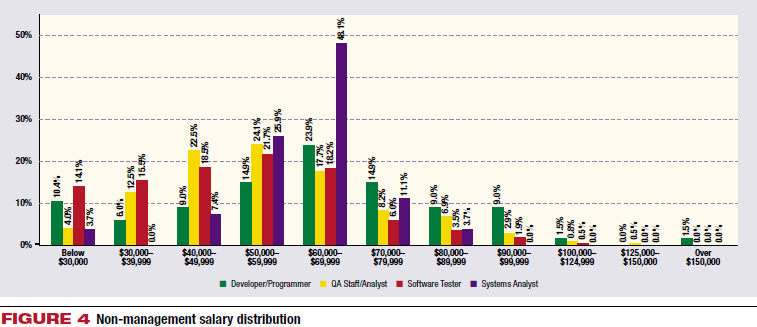 Median Salary Range
Developers/Programmers      $60,000–$69,999
QA Staff/Analysts                  $50,000–$59,999
Software Testers                   $50,000–$59,999
Systems Analysts                  $60,000–$69,999
Meanwhile, salaries for all our management job titles (QA managers, software managers, and test managers/leads) lined up within the same median salary range of $70,000 to $79,999, although individual salaries varied widely (see Figure 5, for details on each category).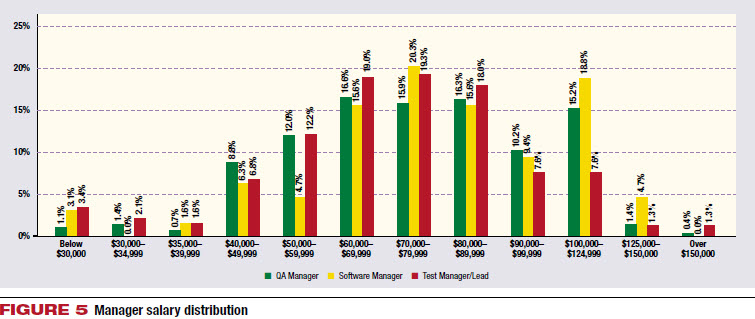 Is moving up the corporate ladder worth it, from a money standpoint? Yes, for most disciplines, but the salary gap between management and non-management is wider in some fields than in others. Last year the difference between testers and test managers/test leads was in the range of a modest $5K—just barely enough to buy a truckload of Pets.com sock puppets at an Internet liquidation sale—while this year's responses showed a whopping $20,000 gap between the two ranges. Jumping from QA staff to QA management shows a similar payoff of up to $20,000, about the same as last year.
There's some evidence from independent market analysis that the method of moving up in your career may be changing in some quarters to address the infamous Peter Principle: that age-old observation that people who were stars in previous jobs tend to get promoted out of their true vocation until they reach a level of incompetency. At some larger companies, for example, new career tracks are being created to allow IT talent access to responsibilities, challenges, and raises without officially moving into management.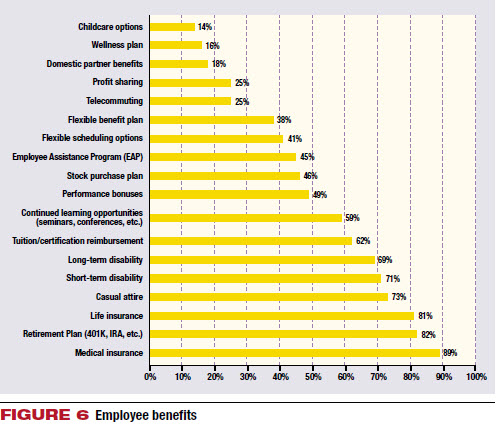 Beyond the Paycheck
As shown in Figure 6, on page 58, most STQE readers' employers offer what in the U.S. are considered traditional benefits: medical insurance, retirement plans, life insurance, and short-term and long-term disability. What may set IT workers apart is their early—and continued—grip on more progressive benefits that have emerged only in the last few decades, such as domestic partner benefits and casual dress codes. Telecommuting remains a mainstay of high-tech work patterns as well, with a quarter of the respondents reporting at-home work as one of their options.
The option of flexible work hours has long been a common addition to the IT benefit shopping cart. But this year only 41% of our readers reported having this option, versus 71% last year—a change that may reflect recent industry trends toward longer work hours and more on-call responsibilities.
Those benefits which are linked with performance—either individual or corporate—saw a few changes this year Performance bonuses and stock purchase plans held their own from last year, scoring 49% and 46%, respectively. But while only 4% of last year's respondents reported profit sharing as a benefit, fully a quarter of this year's readers are reaping those rewards.
So if a higher number of STQE readers are being offered a motivational piece of their companies' profits, what does that mean? Does it reflect a higher drive toward lean profitability as tech corporations slash jobs? Or does this largesse instead reflect the last glimmers of the disappearing dot-com economic bubble? The truth is, it's hard to say. Our survey responses came in during May 2001, a period straddling the end of the wildly inflated Silicon Valley boom times and the post-exuberance economic cool down. "May you live in interesting times," the traditional Chinese two-sided curse/benediction, may sum up the world of IT for the foreseeable future.
Great Expectations, Revisited
It's true; manySTQE readers are going to face questions about job stability and compensation in the upcoming months. But no matter what twists and turns we'll face in the world economy over the next year, most industry analysts say the demand for highly trained staff will remain high—although IT salaries will probably move toward a more sober, pre-dot-com pattern. Most of us have seen some sort of raise in 2001 (70%, down just 7% from last year), and over 15% of respondents have seen a raise bigger than 10% this year. Expectations, however, were glummer this year than last—only 9% expect raises in the double digits in 2002 (versus 13% last year), and 30% anticipate next year's raise to squeak in under 5%.
Because compensation agreements usually reflect the previous year's job-market conditions, salary counts are usually a lagging indicator of the true economic picture—and your responses to this survey may bear that out. With that in mind, we can look forward to next year's poll to help all of us sort out the trends from the mere hiccups. So stay tuned, and stick around to help us with our next salary snapshot in 2002.