Master the Crucial Non-Technical Skills Every Software Architect Needs!
Thousands of software professionals have the necessary technical qualifications to become architects, but far fewer have the crucial non-technical skills needed to get hired and succeed in this role. In today's agile environments, these–soft–skills have grown even more crucial to success as an architect. For many developers, however, these skills don't come naturally–and they're rarely addressed in formal training. Now, long-time software architect Dave Hendricksen helps you fill this gap, supercharge your organizational impact, and quickly move to the next level in your career.
In 12 Essential Skills for Software Architects, Hendricksen begins by pinpointing the specific relationship, personal, and business skills that successful architects rely upon. Next, he presents proven methods for systematically developing and sharpening every one of these skills, from negotiation and leadership to pragmatism and vision.
From start to finish, this book's practical insights can help you get the architect position you want–and thrive once you have it!
Image: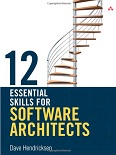 Member Reviews:
Review By: Britt E. Cluff
03/20/201212 Essential Skills for Software Architects is targeted at software architects and aspiring software architects. Regardless of your experience level, if you are involved in software development, this book is an essential addition to your library. It focuses entirely on the non-technical skills required to be an architect. The day-to-day technical requirements of performing the role are assumed. The book is very well laid out and presents a hierarchy (pyramid) of skills that build upon each other to increase your effectiveness or opportunity to be promoted.
Technical skills are the foundation of essential architect skills, followed by a layer of relationship skills that include leadership, politics, gracious behavior, communication, and negotiation. The next layer is personal skills. Each of us has probably worked with an outstanding technical person who never mastered these skills. The author does an excellent job discussing transparency, passion, and context switching and the importance of having them in your repertoire.
The top of the hierarchy consists of business skills–pragmatism, vision, business knowledge, and innovation. This is another area that so many technical experts never seem to master. Without them, it is nearly impossible to be an effective architect. In my opinion, business knowledge is the most critical of these skills to master. You must be able to understand the language of business and the drivers that come into play when making tough decisions to allow the business to grow and gain competitive advantage.
I recommend this book to all IT professionals. It is a must read and belongs on your bookshelf, but don't just leave it there. Read it once, practice mastering the skills presented, and then read it again.