"The Art of Project Management" covers it all--from practical methods for making sure work gets done right and on time, to the mindset that can make you a great leader motivating your team to do their best. Reading this was like reading the blueprint for how the best projects are managed at Microsoft... I wish we always put these lessons into action!" --Joe Belfiore, General Manager, E-home Division, Microsoft Corporation
"Berkun has written a fast paced, jargon-free and witty guide to what he wisely refers to as the 'art' of project management. It's a great introduction to the discipline. Seasoned and new managers will benefit from Berkun's perspectives." --Joe Mirza, Director, CNET Networks (Cnet.com)
"Most books with the words 'project management' in the title are dry tomes. If that's what you are expecting to hear from Berkun's book, you will be pleasantly surprised. Sure, it's about project management. But it's also about creativity, situational problem-solving, and leadership. If you're a team member, project manager, or even a non-technical stakeholder, Scott offers dozens of practical tools and techniques you can use, and questions you can ask, to ensure your projects succeed." --Bill Bliss, Senior VP of product and customer experience, expedia.com
In The Art of Project Management, you'll learn from a veteran manager of software and web development how to plan, manage and lead projects. This personal account of hard lessons learned over a decade of work in the industry distills complex concepts and challenges into practical nuggets of useful advice. Inspiring, funny, honest, and compelling, this is the book you and your team need to have within arms reach. It will serve you well with your current work, and on future projects to come.
Topics include:
How to make things happen
Making good decisions
Specifications and requirements
Ideas and what to do with them
How not to annoy people
Leadership and trust
The truth about making dates
What to do when things go wrong
Image: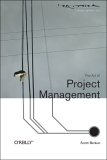 Member Reviews:
Review By: Ron Goodwin, PMP
12/08/2005"The Art of Project Management" is an excellent book for the novice, project manager, and project management professional. Anyone who has ever faced the daunting task of making a project work from conception to completion can put this book to good use. Author Scott Berkun effectively elaborates on almost every task that crosses the project manager's desk.
Berkun deals with the issues and topics of project management from a fresh viewpoint mixed with humor and reference--rather than from the Project Management Institute's PMBOK point of view of processes, inputs, tools and technology, and outputs. He categorizes his observations into three parts: plans, skills, and management.
The presentation and organization of the book flow quite well. Questions are promptly answered and done so in a manner that precludes misunderstanding. And Berkun has a most interesting writing style that infuses humor, occasional sarcasm, indisputable observations, and well-referenced facts in the spirit of Mark Twain or sometimes in a Franz Kafka manner. His views are supported by more than ten years of experience in project management.
Berkun fills his book with illustrations for the visual learner. His illustrations are all hand-drawn, making them even more to the point--no high-level PowerPoint slides, but arrows, x and y axes, and overlapping circles, using Comic Sans font.
When I received "The Art of Project Management," I said to myself, "Oh goody, Sun Tzu has finally written a book on project management." I figured I had an excellent sleep aid for those nights I could not drop off right away. I could not have been more wrong. For a topical book, "The Art of Project Management" was a fun read and an educational experience. It is written with tongue-in-cheek wit and humor, as well as a clear focus. Considering all the project management training I have taken, I wish more instructors had Berkun's timing, knowledge, and ability to make the reader glad to have visited this normally desert-dry subject.