What's it like to work on a great software development team facing an impossible problem? How do you build an effective team? Can a group of people who don't get along still build good software? How does a team leader keep everyone on track when the stakes are high and the schedule is tight? Beautiful Teams takes you behind the scenes with some of the most interesting teams in software engineering history. You'll learn from veteran team leaders' successes and failures, told through a series of engaging personal stories—and interviews—by leading programmers, architects, project managers, and thought leaders.
This book includes contributions from: Tim O'Reilly, Scott Berkun, Mark Healey, Bill DiPierre, Andy Lester, Keoki Andrus, Tom Tarka, Auke Jilderda, Grady Booch, Jennifer Greene, Mike Cohn, Cory Doctorow, Neil Siegel Trevor, Field James, Grenning Steve, McConnell Barry, Boehm and Maria H. Penedo, Peter Gluck, Karl E. Wiegers, Alex Martelli, Karl Fogel, Michael Collins, Karl Rehmer, Andrew Stellman, Ned Robinson, Scott Ambler, Johanna Rothman, Mark Denovich, and Eric Renkey, Patricia Ensworth, Andy Oram ,Tony Visconti.
Beautiful Teams is edited by Andrew Stellman and Jennifer Greene, veteran software engineers and project managers who have been writing bestselling books for O'Reilly since 2005, including Applied Software Project Management, Head First PMP, and Head First C#.
Image: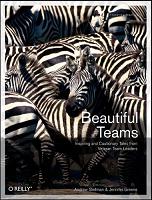 Member Reviews:
Review By: John VanNorman
05/28/2010From the outset, this book is much different from the normal 'how to' books. The authors present an anthology of interviews and essays from different people in the IT industry, general business, other authors, and engineering. The focus is largely on the IT experience, compiled and divided into five subject areas: people, goals, practices, obstacles, and music. Yes, music. Their point is that getting a task accomplished with teams has similar qualities regardless of the task or context. Rather than just telling the audience about their conclusions, they have let these leaders tell their experiences—both successes and failures.
Almost everyone can find a similarity of circumstance in at least one of these essays or interviews. The stories provide first-hand experience of how these recognized leaders became successful leading their teams. As a result, readers gain a more personal understanding of how of these individuals think and what they consider to be important aspects of team success. These presentations bring home the message of how it's necessary to assure the principles are implemented.
The book should cater to a wide audience outside of team leads, managers, and project managers. The presentations are varied and easy to relate to. The book can be kept as a reference to help provide some examples of situations the reader may have not yet experienced. Sharing the experiences of these recognized leaders in little essays makes it easy to go directly to a particular experience and not have to dig out information from an entire book. On the other hand, the book leaves the reader to deduce the essentials from the discussions and essays because there is no detailed skill example. Some people may find that a summarization of the essentials would be helpful. I think the authors had to make a choice on brevity and let the reader derive their own conclusions, which I found refreshing. Although large, the book isn't just another tome. I jumped around in the book so that I could read the stories from familiar contributors and I didn't lose any context.
The main point I gathered from the book is that successful teams need the basics: people with the right skill set and resources. Methodologies may help to communicate technical aspects of the project yet that's not entirely what makes a successful team. What makes the team successful are interpersonal relationships—the ability of people to work together, a clear sense of purpose of the objectives and each member's role, and management that helps the team maintain focus on the objectives and overcome obstacles.
I found the contributions interesting and helpful. Getting different perspectives on a question helps me to understand and make decisions. Overall, I think the book accomplishes in providing those perspectives for successful teams.
Review By: Mary Ann Overbaugh
05/28/2010Far from being dull, the "geek" stories in this book are loaded with personal accounts from notable contributors within the software development community. The stories flow conversationally revealing some interesting insights from long-term, seasoned professionals. Throughout all the stories, the contributors share a common belief that there are no right or wrong answers to software development and team building. And, yes, there is an element of art involved in building a team.
The interviews are peppered with detailed and factual accounts sometimes set along a timeline, leading up to powerful lessons learned from projects and team management. This book is not the usual tech-talk we hear or read in advertising spots or tech magazines but concise tips and pitfalls examined and scrutinized from the manager's account of his own work. Don't think war stories, rather "personal lessons from the field" as these are not the typical braggadocio found in business articles. These folks are rather humbled and awed at the complexity involved in large projects. The stories are told from people who dig deep to reveal their fears and successes.
These thirty-one tales are organized under the subheads people, goals, practices, and obstacles. This organization allows the reader to dive into any story in the book and enjoy it as a standalone.
One chapter that stood out detailed how the art of music production is analogous to software development. Everyone in music production has his or her job to do to complete the product. The development process is iterative, and the manager must know his team's strong points and provide leadership and encouragement using soft skills where needed. During the project, he must manage expectations, budgets, goals, and even use tools and methods that are developed on the fly to support the project. Mostly, he must be flexible and open to changes during the project.
I was pleased to see two distinguished contributors whom I've had the pleasure of meeting: Johanna Rothman and Karl Weigers. Their stories, along with the rest, are somewhat biographical and will stand up to time. That said, this book will have a long shelf life; the ideas are timeless even if technology is not. This book is for thoughtful, big-picture people who want insight from others who have actually performed the work they do or are a few steps ahead in the learning curve. I recommend this book since I feel the reader would do well to take advantage of the range of experiences and ideas these contributors shared so freely.