Many organizations use Capability Maturity Models® (CMMs®) to assess development and maintenance processes, implement improvements, and measure progress. Although consistent in purpose, these models differ in terminology and design--enough sometimes to cause conflict and confusion when used within the same organization. Addressing the need for a more coordinated approach, Capability Maturity Model Integration (CMMI®) provides a single framework for improvement in software engineering, systems engineering, integrated product and process development, and supplier sourcing.
This book is the definitive reference for the most current release of CMMI models. To use a CMMI model available on the SEI Web site, users must choose from among multiple models based on their organization's improvement needs. This book provides a single source for all CMMI model information. Readers can get started without having to select a model first--all of the choices are compiled in one place and explained in detail.
Image: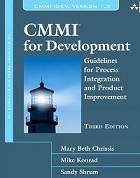 Member Reviews:
Review By: Mary Ann Overbaugh
02/10/2012
This book is an updated and extended guideline for CMMI v1.3 for process integrators and encompasses newly defined areas within the CMMI development model, focusing on process integration and product development. This version includes expanded process areas and practices that may have been inadequately defined or were outliers to the current CMMI development process. There are now twenty-two process areas, including:
Acquisition
Outside development
Transition to new software
Strategy and work planning
Given that so many have participated in the creation of new best practices and enhancements for this new version, I am sure these new updates will be helpful to those who manage process groups.
This book is part of an evolving collection of books developed by the Carnegie Mellon Software Engineering Institute that describe "frameworks, tools, methods, and technologies designed to help organizations, teams, and individuals improve their technical management capabilities" and are intertwined. Books coming out of SEI are the holy grail of process engineering. I still have Managing the Software Process by Watts Humphrey, who started work on maturity model, twenty-five years ago.
This book requires you to want extra guidance and knowledge in these new areas of elaboration. One does not read this book; one consults it for answers, solutions, and methods.
Having started with the CMM many years ago (the CMMI method is now fifteen years old), I am pleased to read about new process developments that are, in fact, the CMMI's process improvement journey. They demonstrate their own goal for continuous process improvement.