The author is a true test enthusiast who has spoken to several thousand people about testing. The book is the result from many years of teaching test design with the goal of creating a highly useful test book. It is full of examples from the real world and contains exercises for most of the techniques described. It can be used as class-material or for self studies.
Image: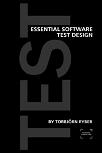 Member Reviews:
Review By: Robert Watkins
06/15/2009The first part of the book discusses how quality assurance tasks fall into typical project processes, without relying on any particular methodology. The middle section goes into detail about specific test design techniques and how to apply them to some examples. In some cases, the reader is invited to try it out for themselves with a handy "suggested solution" section at the back of the book. The last section of the book discusses applying the tests to your project including test organization, defect handling/tracking, test planning/scheduling, and a discussion on when a system is "tested enough."
If you are:
New to Quality Assurance, you will learn how the author does his craft by being able to peer into his thought processes through the various examples
A QA team lead, you will have a good source to provide a short and focused set of examples to the team to standardize on the methods applied to your projects
Part-time QA such as a developer, project manager, or business analyst, this book starts with you in mind. It walks through how QA is applied to projects. It then goes into the test design methodologies in an easy-to-understand set of chapters
IT managers that work with anyone responsible for quality assurance for your projects, this will give you insight into the role of QA for IT projects and provide insight into the somewhat mysterious world of QA
So many of my colleagues would benefit from this book that I'm afraid to lend it out since I don't believe I'd ever get it back. But before you think that this book can do no wrong, I do have one annoyance to warn you of. This book has a lot of proofing mistakes. (How ironic considering it's a book on QA.) You'll find misspellings, references to figures that are not provided, and even some grammar issues. While it's likely that with any given book, you can find mistakes, seeing one page of every ten with some obvious error seems to be excessive. Regardless, given the choice between flawless proofing and excellent content, I'll choose the excellent content which you will find here.