Interaction Design is an authoritative, eminently readable and thought-provoking book about computer system usability. It achieves a good balance between the human, computing and design aspects of the subject.
Image: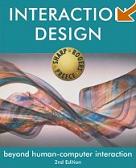 Member Reviews:
Review By: Martin McSweeney
12/29/2008
The authors introduce this book with the statement that the user experience is "a concept that has become central to interaction design." Indeed, the predominant theme is that by taking a user-centered approach to development, we can evoke optimal positive and enjoyable experiences. And, the authors emphasize, the more involved users are during the process, the more likely they are to take "ownership" of the eventual product.
The book begins with a broad introduction to this interdisciplinary field and then guides the reader through the areas of psychology and sociology that are at the heart of human computer interaction (HCI), including cognitive frameworks, data gathering, and quantitative analysis. The authors discuss social aspects and explore how recent advances in bandwidth and mobile multi-media capabilities are rapidly changing how society communicates and collaborates. Then they describe the way to actually "do" interaction design, which is an iterative process of requirements work, prototyping, developing, and evaluating. This is all based on continuous feedback from the users. The authors emphasize diversity in the approach to prototyping and argue the benefits of producing both good and bad designs for evaluation. At an implementation level, current engineering methodologies, such as RAD and SCRUM, are briefly explored. The final part of the book focuses on usability and evaluation, and contains a checklist-type framework (DECIDE) to help plan our evaluation studies.
This book is not about the widgets, platforms, or colors, but about the relationship between psychology and technology. It is about how to transform our understanding of the human mind into a design that "enables users to readily learn a system and use it effectively." The authors write in story-book style at a scholarly level, keeping the reader's attention through countless examples, excerpts, and anecdotes from industry and from interviews with authoritative figures in the HCI academic community.
Although the book appears written for senior studies in software engineering and psychology, it can serve as a valuable tool for any professional looking to take interface design to the next level. Topics in data-gathering techniques and prototype development can be referenced quickly and can open a gateway to new ideas and approaches. The wealth of inter-leaving information the book presents is a little intimidating, and the "user-centered" approach can feel a bit repetitive. However, this book is a must-have on the bookshelf of anyone that needs to take interface design seriously.