Java Performance covers the latest Oracle and third-party tools for monitoring and measuring performance on a wide variety of hardware architectures and operating systems. The authors present dozens of tips and tricks you'll find nowhere else.
You'll learn how to construct experiments that identify opportunities for optimization, interpret the results, and take effective action. You'll also find powerful insights into microbenchmarking–including how to avoid common mistakes that can mislead you into writing poorly performing software. Then, building on this foundation, you'll walk through optimizing the Java HotSpot VM, standard and multitiered applications; Web applications, and more.
Using this book, you can squeeze maximum performance and value from all your Java applications--no matter how complex they are, what platforms they're running on, or how long you've been running them.
Image: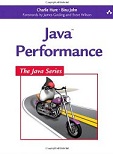 Member Reviews:
Review By: Scott Brookhart
03/30/2012
In Java Performance, authors Charlie Hunt and Binu John provide Java developers and performance testers with concepts, tools, and environments for addressing the issue of Java performance. The authors did not write the book for readers to jump in, read a few excerpts, and be ready to write superbly performing Java code right away. This is a complex topic. However, there are plenty of examples and an appendix of the complete code used.
As a developer for many years working in the Java and Microsoft .NET arena, I have found that developing code to be functional is at one level of difficulty, while getting the software to perform when necessary is at quite another. Mostly, developers rely upon the hardware to handle the performance issues. We are able to ask the operations staff for faster CPUs and more memory when the applications do not adequately perform.
I've also noticed that finding relevant reference material to address the issues of application performance is not always easy. Only recently have developers started seeing that we must address the performance issues in code by coding towards parallel processors or more performance-oriented code.
One recommendation would be for the authors to provide the code from the appendix on a website or include it on a CD with some of the tools described in the book, so that it would not be necessary to type the code.
For Java developers, this book has a shelf life as good as any book in the programmer's world.