Information Technology is supposed to enable business performance and innovation, improve service levels, manage change, and maintain quality and stability, all while steadily reducing operating costs.
Yet when an enterprise begins a Lean transformation, too often the IT department is either left out or viewed as an obstacle. What is to be done? This book shares practical tips, examples, and case studies to help you establish a culture of continuous improvement to deliver IT operational excellence and business value to your organization.
Image: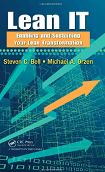 Member Reviews:
Review By: Melissa M. Tondi
07/25/2011
Lean IT offers a great look into the lean methodology. For those of you who want to learn more about lean or who are looking for an alternative for managing your software development lifecycle, this book allows you both to view the overall breadth and to dive deep into specific areas. The tactical and hands-on approach allows readers to reference concentrated solutions and get to the "meat" of the book easily.
The book is an interesting read and contains in-depth information that summarizes forty years of lean success stories in a one-stop shop. It addresses important challenges that IT professionals have experienced for years. The authors offer interesting insight into creative problem-solving situations that come from first-hand experience and references from proven achievements.
The case studies provide valuable information on how companies applied the concept of lean within their industries. Regardless of the industry, however, we can take away key points and easily implement either the full solutions or segments that apply to our individual situations. Although most of us will find value in the implementation of each phase, the target audience is senior and executive management who can make the decisions on execution.
I recommend this book to anyone who is looking for a solution to delivering software in a highly collaborative and adaptable manner. Read this book all the way through or use the highly interactive table of contents to choose areas of interest. Either way, you're bound to find real-life and practical results that you can immediately implement.