This book is a reality-based guide for modern projects. You'll learn how to recognize your project's potholes and ruts, and determine the best way to fix problems—without causing more problems. Your project can't fail. That's a lot of pressure on you, and yet you don't want to buy into any one specific process, methodology, or lifecycle.
Your project is different. It doesn't fit into those neat descriptions. Manage It! will show you how to beg, borrow, and steal from the best methodologies to fit your particular project. It will help you find what works best for you and not for some mythological project that doesn't even exist. Before you know it, your project will be on track and headed to a successful conclusion.
Image: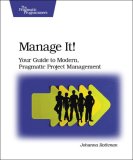 Member Reviews:
Review By: Jennifer Cannon
06/15/2010
Although I'm not a project manager, I am familiar with Johanna Rothman and have learned a lot from her insight and experience in software development which she shares in her articles, papers, and books. This book is yet another example of her drawing upon her considerable experiences working with different companies and projects to share an incredible wealth of knowledge and practical advice for effective project management—in a way that is very easy to read. You will not be bombarded by a lot of theory here, but you'll be guided to project success by being presented with plenty of practical experience and advice from one of the best in the industry.
Rothman places an emphasis on the context of projects—there is no one correct process that will work for all projects and all life cycles. Each project and each organization is different. One size does not fit all!
This book covers all aspects of project management of software development projects. Rothman's emphasis is on agile projects, but if you don't use an agile life cycle, don't worry. She provides tips and project management practices that are applicable for more serial life cycles as well. Johanna begins the book with "Starting a Project" in which she helps you answer the following questions: What's driving my project? What does "done" really mean for my project? What does quality mean for my project? Also covered in this chapter is how to write a project charter and why this is so important.
Rothman then moves to planning the project, defining your life cycle, scheduling, and estimating the work. She includes a chapter called "Recognizing and Avoiding Schedule Games" that covers several schedule games including "Pants on Fire," "Bring Me a Rock," and "Hope is Our Most Important Strategy." Rothman defines how to recognize these games and provides advice for each that can be used to bring the project team and schedule back to reality and keep the project on track.
Johanna also covers creating a project team, project steering and rhythm, project dashboards, testing, and project completion. She has a chapter called "Managing Meetings" that is terrific! It's a fact that many project managers (and their team members) spend a lot of their time in meetings. Are they all really necessary? Rothman helps the reader decide what meetings to call, which ones to attend, which ones to delegate, and which ones to ignore. If you are a project manager that has to manage multisite projects or multiple projects, then there is some advice in this book for you as well.
I highly recommend this book to all project managers, from novices to those with more experience. This is an incredible resource that should be referred to frequently for advice on how to help you decide which project management practice or technique is appropriate for your project—which she helps you to apply immediately. And she offers advice on how to avoid project pitfalls in order to steer your project to a successful completion.