This practical reference discusses why essential processes so often fail to deliver quality industrial software to meet user needs. It describes how to integrate processes and metrics to ensure easier and more effective enterprise software development.
Its metrics-driven approach guides practitioners at every step of the life cycle and helps them analyze, design, implement, test and deploy solutions with greater confidence, purpose and sensitivity to evolving business needs.
Image: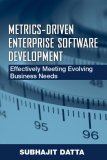 Member Reviews:
Review By: Dr. Tilmann Bruckhaus
06/20/2008
Metrics-Driven Enterprise Software Development is a comprehensive and eccentric overview of the history and current state of the techniques and practice of measurement in large-scale software projects. This book is not just about a passing fad. Until revolutionary new developments change this field, the book will continue to be valuable to software quality engineering professionals. I have been familiar with this field for twenty years and found the book to be immediately valuable in that it presented some topics and aspects with which I had been less familiar. I was pleased to read this book as I could immediately use the information contained in it for my own work.
The light-hearted, far-ranging and conversational presentation of the technical materials covered here surprised me. For example, when the author discusses the technical and specialized software-engineering topics of abstraction, elision, and indirection, the author presents a two-page side bar to summarize the ancient Indian epic Mahabharata and its brave and cunning heroes to illustrate how abstraction, elision, and indirection have similar meaning outside of software engineering. This style of treatment is not an exception in this book and the author uses this presentation method throughout.
Datta's writing style might be most attractive to novices to the technical subject matter who may tire quickly with drier, theoretical, and abstract works on the topic. I would definitely recommend this book to less experienced coworkers who may not have had extensive technical training. The hurried expert who is looking for the most in-depth and efficient coverage of the material may not benefit as much from this choice of treatment.
In writing this book, Subhajit Datta was evidently committed to creating an easy-to-understand resource. He presents evidence for the points he makes in the form of stories, case studies, and personal experiences. He also provides a fair amount of tables and graphs, but the treatment is light on math, proofs, and derivations. If you are looking for an introductory text to software metrics that is light-hearted, easy to read, and also provides a comprehensive, top-level overview of the history and concepts; then you will want to add this unique book to your library.
Overall, I greatly enjoyed reading this book, not because of technical details available in this book, but because of the broad coverage and unique presentation of the materials. After all, I do not know of any other book that teaches software engineering and at the same time recounts ancient Indian epics. If I were to rewrite this book, I would not change anything. If I did, the book would lose its unique and eccentric character.