Today, technology has become too much a part of overall corporate success for its effectiveness to be left to chance. The stakes are too high. Fortunately, the idea of 'quality management' is being reinvigorated. In the last decade process programs have become more and more prevalent. And, out of all the available options, three have moved to the top of the chain. These three are:
The 9001:2000 Quality Management Standard from the International Standards Organization
The Capability Maturity Model Integration from the Software Engineering Institute; and
Six Sigma, a methodology for improvement shaped by companies such as Motorola, Honeywell, and General Electric.
Subtitle:
CMMI, Six SIGMA, and ISO 9001
Image: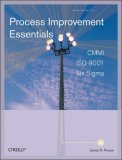 Member Reviews:
Review By: Showey Howey
12/21/2007Saying that Process Improvement Essentials is only for those who need to select a standard is disguising a great implementation resource for any process improvement team." While unnecessary to the purpose of selecting one of these standards, the first 124 pages provide a great overview of process improvement principles. The consultant point-of-view acknowledges that this is often an outsider activity, yet it can guide internal teams through similar pitfalls. The clear writing style features real-world client experiences. Callouts containing expanded quotes from C-level industry professionals and a genuine conversational style mask the dryness inherent in much of this topic. Caveats here will outlast changes to any standards.
The next three sections cover a major quality standard in use today: CMMI, ISO 9001, and Six Sigma. Of course, someone in an organization selects a standard; whereas many IT shops do not make their own choice and the parallels developed in this book have value beyond any selection process. Most books that concentrate on a particular standard stick to that standard in all examples. While they show the standard in its purest form, most process improvement teams struggle with tailoring. Being able to select from a menu of tools helps quality teams tailor without moving too far away from established methods.
The last chapter fulfills the book's stated purpose and gives specifics useful for tailoring. This well-thought out and concise analysis of the standards uses a structure based on attributes of successful process improvement efforts. Two of the twelve "adoption considerations" are the Cultural Shift and Resource Commitments, required of an organization implementing a standard. While ISO 9001:2000 can be implemented in a "light" version with limited scope, CMMI will deeply affect "technology management practices" and requires more of the organization's involvement. As discussed further in "The Short-Term View,' some Six Sigma projects are narrowly focused providing quick, positive results with low-impact in those areas.
Persse also addresses twenty-three traits of quality systems. This gives a real feel for each standard. Continuing with the example of Resources, Persse spells out each section of the ISO standard and then identifies the Generic Practice and Process area in the CMMI model. He then explains that the less-restrictive format of Six Sigma does not specifically set resource requirement and is much more role-based.
Using this book, as well as material provided by an organization's process leaders, a team can make important choices in implementation even though they may not have chosen the standard.