This book integrates key tools and processes into a comprehensive program for developing more robust and reliable technology-based products. Drawing on their extensive product development expertise, the authors present a complete process for ensuring product performance throughout the entire lifecycle, from understanding customers' needs through manufacturing and post launch support.
The authors begin by presenting broad insights and high-level strategies for improving technology product quality. Next, they demonstrate how to implement robustness and reliability strategies that complement existing governance and decision processes. A section on tools and methods shows how to institutionalize best practices and apply them consistently. Finally, they tie strategies, decisions, and methods together through a case study project.
Subtitle:
Value Adding Strategies for New Products and Processes
Image: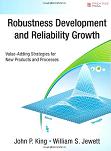 Member Reviews:
Review By: Daniel Campanelli
08/25/2011This book teaches time-tested principles of reliability engineering. Although written from the point of view of generic product development, the tools and techniques are easily adaptable to software development. The authors educate the reader on the principles of reliability engineering while at the same time providing real-world commentary from their own experiences.
It appears that reliability and robustness are two sides of the same coin. Reliability is the likelihood that a product or process will survive for a certain period of time. Robustness is the product's insensitivity to sources of variation acting upon it over its useful life. So, increasing the robustness of the product during its development extends its resulting reliability to users. Since reliability is important to customers, a business can possibly increase its competitive position in the marketplace by increasing a product's reliability.
The challenge is to improve the robustness of its product at a cost that is less than the loss of quality in the marketplace. A product's reliability could be compromised at several points throughout its lifecycle: design, manufacturing, production usage, or servicing and repairs. Since the cost of improving the product increases exponentially as it evolves over its lifecycle and the customer's perception of quality is paramount, the best place to increase the robustness of a product is during requirements and design.
The authors not only discuss a plethora of tools for proactively designing robustness into a product but also show how the tools relate to each other throughout the process. Many of the tools deal with statistical techniques and are somewhat challenging to understand. However, that should not stop the serious practitioner from reading this book. The advice given on how to use (and not use) the tools should be enough of an incentive to read it. The reader can study details of the statistical techniques later, when particular situations call for them.
I think any practitioner looking to be at the top of his or her profession should read this book. After all, good quality engineers will take steps to detect failures before a product hits the market. However, excellent quality engineers will take steps to prevent failures before they occur, and those select few will benefit most from this book.
Review By: Britt E. Cluff
08/25/2011If you are involved in product development, you should definitely read this book. It is quite long but contains a wealth of information. It is broken down into four primary sections. The first covers the critical drivers of value, the second provides a framework for reliability development, the third covers tools and methods for reliability development, and the last section focuses on the integration of frameworks and methods.
If you develop products, you really need to understand the drivers of value. There are several drivers that most product development teams fail to consider. In order to provide or increase value, consider reliability, risk management, voice of the customer, voice of technology, and overall product quality. How much value does each incremental improvement in quality provide? If the product works as advertised and customers are happy, then the product has provided value.
The second section provides an overview of several industry methodologies that you should consider when creating a framework. They include DMAIC Six Sigma to identify and solve existing problems, Design for Six Sigma for problem prevention, lean product development to shorten development times and reduce development costs, set-based design (based on Toyota's product development process) to develop a thorough knowledge of the behaviors across the design space and its alternative configurations, and agile development to engage customers so that late changes can be less disruptive. Your teams should be students of all these strategies in order to provide the best framework for reliability development.
The third section provides a very detailed discussion on several tools and methods for reliability development. It starts with an excellent discussion on managing customer-driven requirements. Good requirements are the basis for any development effort, and gathering and managing requirements can be a complicated process.
The chapter on quality function deployment (QFD) is particularly interesting. QFD is a methodology to translate the needs of your customers into the requirements for your solutions. It utilizes workshops to integrate the voice of the customer with the voice of your business and technologies. This chapter alone makes the book worth purchasing.
The section ends with several chapters on statistical analysis of projects to help you make decisions based on data rather feelings or intuition. These chapters require careful reading, as they are very detailed and require some understanding of statistics and modeling. The areas covered are descriptive statistics, inferential statistics, and building models with ANOVA (analysis of variance) and regression among others.
The final section provides techniques on integrating frameworks and methods. The core concept in this section is critical parameter management. It is intended to ensure that all product characteristics affecting attributes important to customers are characterized, specified, and in compliance with requirements. Understanding the behaviors of product characteristics that are really important helps you evaluate risks. Gaining this knowledge earlier in the development process will improve the overall quality and reliability of any product.
This book provides a wealth of information on developing high-quality, reliable products. It is not an easy read due to the depth and the amount of statistical models that are covered. I recommend that you set aside plenty of time to read and study each chapter.