Increasingly, large product-development organizations are turning to lean thinking, agile principles and practices, and large-scale Scrum to sustainably and quickly deliver value and innovation. However, many groups have floundered in their practice-oriented adoptions. Why? Because without a deeper understanding of the thinking tools and profound organizational redesign needed, it is as though casting seeds on to an infertile field. Now, drawing on their long experience leading and guiding large-scale lean and agile adoptions for large, multisite, and offshore product development, and drawing on the best research for great team-based agile organizations, internationally recognized consultant and best-selling author Craig Larman and former leader of the agile transformation at Nokia Networks Bas Vodde share the key thinking and organizational tools needed to plant the seeds of product development success in a fertile lean and agile enterprise
Subtitle:
Thinking and Organizational Tools for Large-Scale Scrum
Image: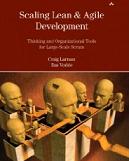 Member Reviews:
Review By: Siva Krishnajee
07/17/2009Authors Craig Larman and Bas Vodde have done a wonderful job writing this book about agile development. The authors incorporate a lot of practical experience in the book rather than simply providing a narration on theory. As a product manager in a software product development company, this book helped me understand the difference between the general development practices and the agile development practices.
The authors also explain Toyota's way of developing products using some Japanese words, which otherwise would loose its focus when translated. It is great to note that basic concepts such as "respect for people" and "continuous improvement" stand top among the agile and lean methodologies. The emphasis of treating a colleague who is the consumer of my work as a customer is a great concept. By this, the entire company achieves its focus on customer satisfaction and retention.
The best quote I like is "Watch the baton, not the runners." This is an awesome quote that clearly communicates what the goal should be when a group of people work together. The authors explain how project teams and managers loose the goal by focusing on things that are not appropriate. Another meaningful discussion the authors review is how you simply cannot do agile but be agile. This clearly emphasizes that one has to dive deep into the practice to achieve the results instead of simply talking about it. The knowledge obtained from this book can be applied to development teams of different sizes, teams located multiple geographical locations, and to an off-shore model.
The organizational tools covered in the book, such as large-scale Scrum, organization, requirements and feature teams, are great. This is an area where the authors delve into how other functions in the organization should complement the agile development practices. With this, the entire organization achieves the agility to respond for any kind of changes.
The list of misconceptions about agile is really helpful. It is a short and sweet comparison between agile and traditional development practices.
Finally, this is an eye-opener for people who want to adopt agile development practices. This book covers the development practices and how the organization should organize itself in order to adopt agile development practices. This is a must read book for the people in the managerial and other top level people in the IT enterprises.