"The Testing Network" presents an integrated approach to testing based on cutting-edge methodologies, processes and tools in today's IT context. It means complex network-centric applications to be tested in heterogeneous IT infrastructures and in multiple test environments (also geographically distributed). The added-value of this book is the in-depth explanation of all processes and relevant methodologies and tools to address this complexity. Main aspects of testing are explained using TD/QC - the world-leader test platform.
This up-to-date know-how is based on real-life IT experiences gained in large-scale projects of companies operating worldwide. The book is abundantly illustrated to better show all technical aspects of modern testing in a national and international context. The author has a deep expertise by designing and giving testing training in large companies using the above-mentioned tools and processes. "The Testing Network" is a unique synthesis of core test topics applied in real-life
Subtitle:
An Integral Approach to Test Activities in Large Software Projects,
Image: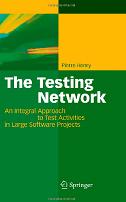 Member Reviews:
Review By: Joel Singh
09/26/2011The Testing Network is a very well-written book, and the information is certainly relevant for testing today's applications. I was immediately able to use the information on defect categorizations ("The Analysis of Defect Root Causes") as well as the metrics sections ("Measuring Test Efforts").
The author presents the information in a logical and orderly manner, which is easy to consume and understand. An artifact of this style, though, is that the author uses abbreviations like TP for "test platform," which interrupted the flow of information for me. TP could be "test plan," "test process," etc., so it interrupted the flow of information for me—a very minor artifact to be sure, but still observable.
This book should appeal to both novices and experts, but it is geared more towards an intermediate audience. The author does a great job of explaining the basic principles and offers a few nuggets that an expert can use to keep optimizing. I would most certainly recommend this book to my coworkers and peers as a good refresher, as well as a good source of information on defect analysis and measuring the testing activities in the software development lifecycle.