Open Source is NOT JUST FOR LINUX/UNIX! Open source is changing the software market because of its advantages over commercial tools including cost savings, greater reliability, security, improved performance, and scalability. Although open source is primarily associated with Linux, many people, including IT professionals, don''t realize that open source programs can work on a standard Windows platform. In addition, most open source documentation is Linux/UNIX-focused, so instructions and examples are not easily accessible to Window users. Using Open Source Web Software with Windows addresses these issues by introducing Windows administrators, programmers, and Web developers to open source server tools such as Perl, MySQL, Apache, and PHP, which are currently used to power more than 65 percent of Web site worldwide. Users learn everything they need to implement these tools effectively, including the basics of downloading and installing each of the packages. From there they use the tools and programs in practical combinations to create a self-contained Web server on Windows. After working through the book, Windows users will be able to handle open source database methods, send pages to the Web or Intranet, and make dynamic Web databases. Using open source software will help to reduce licensing costs and improve the reliability, security, and efficiency of their Web tools.
Image: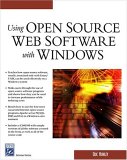 Member Reviews:
Review By: Scott Brookhart
06/15/2010"Using Open Source Web Software with Windows" takes a beginner's approach to using open source tools for setting up a database-driven Web server. The author takes the reader step by step through installing and using the APACHE Web server on Windows, using PHP and PERL, installing and using the MySQL database (Windows Apache, MySQL, Perl, PHP -WAMPP), to using the Crimson Editor. This book assumes that the reader would like to find tools to set up a Web server that uses a database, and it provides configuration and some basic skills to getting the reader on his way.
As experienced developers understand, getting an environment ready to run can take some time, and this book does this in a way that anyone can understand. The beginner developer will easily establish the environment and set up the sample applications. Additionally, the book provides samples of PHP and MySQL, as well as HTML and XHTML. It is a great starter book, as it is geared toward acquiring free tools. Additionally, it provides a CD with all the scripts and open source software used in the book.
The author provides sufficient, straightforward detail so that the beginner developer on a Windows-based machine can follow along. Though this is not an exhaustive text on the subject, it provides adequate detail for getting the reader running. Complete books exist on PHP, MySQL, HTML, and APACHE individually, but this book does a great job of introducing the environment, providing a very good starting point—the reader is given room to develop. I like the organization, detail, handling of the subject matter and the easy-to-understand style of the pictures.
As the author states, so many books provide information about getting open source tools installed on Linux, an open source operating system. However, there are many Windows operating system machines and not a great deal of information on working with open source tools in the environment. Thus, this book is important for assisting beginner developers looking for free tools with the necessary information to set up a database-driven Web server and the resources to drive that Web server in a professional manner. After going through this book, the reader will have a WAMPP (Windows, Apache Web server, MySQL database, Perl, and PHP) established.
I have read many books where some of the details are assumed, but this author does a great job of not assuming the details to the point of considering configurations already established. This book is not necessarily the be-all and end-all to Web development for the beginner, but it is a great starter kit. Web references are used where needed to direct the reader to additional information. As an experienced Web developer—though not necessarily with open source tools—I found the book to be very useful in establishing such an environment. The book does a great job of being concise rather than verbose, but with sufficient detail to provide the necessary steps. I would definitely recommend this book to those interested in this topic and to experienced developers interested in open source options.