(From the Back Cover)
-- Ward Cunningham
Straight from the programming trenches, The Pragmatic Programmer cuts through the increasing specialization and technicalities of modern software development to examine the core process--taking a requirement and producing working, maintainable code that delights its users. It covers topics ranging from personal responsibility and career development to architectural techniques for keeping your code flexible and easy to adapt and reuse.
Read this book, and you'll learn how to:
* Fight software rot
* Delight your users
* Capture real requirements
* Test ruthlessly and effectively
* Avoid programming by coincidence
* Avoid the trap of duplicating knowledge
* Build teams of pragmatic programmers
* Write flexible, dynamic, and adaptable code
* Make your developments more precise with automation
* Bullet-proof your code with contracts, assertions, and exceptions
Written as a series of self-contained sections and filled with entertaining anecdotes, thoughtful examples, and interesting analogies, The Pragmatic Programmer illustrates the best practices and major pitfalls of many different aspects of software development. Whether you're a new coder, an experienced programmer, or a manager responsible for software projects, use these lessons daily, and you'll quickly see improvements in personal productivity, accuracy, and job satisfaction. You'll learn skills and develop habits and attitudes that form the foundation for long-term success in your career. You'll become a Pragmatic Programmer.
Subtitle:
From Journeyman to Master
Image: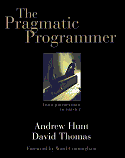 Member Reviews:
Review By: Ronald R. Goodwin
09/02/2004The Pragmatic Programmer provides the reader with a fresh approach to software programming. Not from building code, but from understanding the concepts of how a programmer becomes an outstanding programmer. Hunt and Thomas have put together an amazing set of analogies, stories, tales, near-parables, and quotes.
The Pragmatic Programmer is written in a very fresh and innovative style. It contains only eight chapters but houses volumes of information including, practical exercises (and the solutions) to keep the mind keyed and focused. Perhaps the most interesting aspect is the continuous reminder to avoid duplication in the work being done and to "not take the easy way out" when programming.
Much of the lead-in to the content is tied to analogies, stores, tales, and near-parables which express a point-of-view that might have escaped the reader without the "tale" that is told. For software developers, The Pragmatic Programmer offers a new and interesting facet for the development of their skills. For the programmer who wants to move forward in their work, this book provides valuable guidance and insight. From the "who needs to read this book" in the Preface, to the closing paragraphs on showing pride in your work, the authors tell stories, share anecdotal information and "teach you to fly a helicopter."
This book provides guidance, insight, and direction to programmers, testers, software reviewers, and other critical "eyes" that work with the programmer. With a summary at the end of each chapter summing up what was covered, the book is outstanding for the programmer who wants to be not just good, but great.