leaves self-organization to long discussions about "how it should be done." The result of the training was that people were enthusiastic and highly motivated to implement their own ideas within the Scrum framework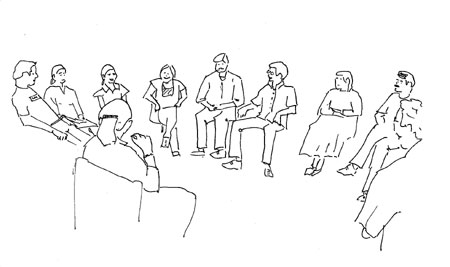 Figure 1: Face-to-face Retrospective
With the team thoroughly enthused and ready for action (no surprise with all the sugar in the candy), we set out to run the retrospective. We had observed as members developed a group cohesion over the two days, and we felt that they would be able to address difficult topics effectively. On the other hand, they had never held a retrospective in their three months of Agile development, and the problems which had to be worked through were significant.
We've both worked with Esther Derby and Diana Larsen, and often use material from their book Agile Retrospectives - Making Good Teams Great in our work. Here is the agenda we created for the retrospective and posted prominently on the wall:
Appreciations
New information
Puzzles
Complaints and recommendations
Hopes and wishes
Discussion and prioritization of the puzzles, complaints, and recommendations
Prioritizing the information
Working out team agreements for the most vexing problems.
When the group is culturally diverse, we're just a bit more anxious on how appreciations will be received. Every time we ask a group to share what actions they appreciated from other team members, it continues to amaze us how die-hard geeks really share these appreciations for one another. And how they love to hear when their actions have been recognized by others in the team. Appreciations are a terrific icebreaker, often with many shared laughs and memories.
The new information section became a dramatic event, when management decided to announce a large team restructure during the retrospective. What could have become a killer for the retrospective by dropping doubt and fear into the team became a demonstration of how honesty and openness helps build a team. The restructure brought opportunities for additional responsibilities to the team and these were able to be shared and explored by the group in a completely non-threatening way.
Our facilitation work started in earnest when we asked what events were not understood by the team members. Puzzles are not necessarily negative. This way we balanced the team's eagerness to become critical with the process while gently moving complaints to the next agenda item. Here we asked them to balance every complaints with a recommendation. All in all the team collected some 35 puzzles and complaints -- without a single Indian or American finger pointing at a colleague.
The Hopes and wishes activity is not only a conclusion of the data-collection portion of the agenda, it also starts the thinking about priorities - what would the people in the room really wish to change in the process?
We captured all of these data points on sticky notes, and had them posted on the wall in little time (Figure 2). To quickly reach consensus on prioritizing the most important items, we used a multi-vote approach, where every person in the room got three votes to distribute over the 35 potential improvements in any way he or she wished. Each vote was represented by a check mark.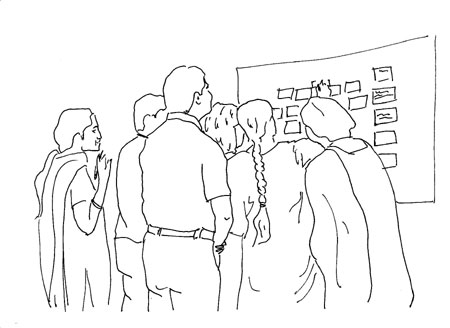 Figure 2: Issues on Sticky Notes
To our surprise the team was very much in agreement about the priorities: two items jumped out with more than 10 votes each, than at a distance two more items got four votes. Other votes were scattered over five or six issues. We took the four issues with 10 or four votes as the priority changes for the process, and started