First, the survey asked respondents to qualitatively estimate the level of improvement in value (i.e., significantly improved, improved, no benefit, worse, much worse) for specific metrics. The most significant improvements were seen in the 'softer' categories: improved project visibility and improved team morale. People and collaboration as the heart of Agile teams' values. Almost half of the respondents also cited improvements in productivity, software quality, and/or time-to-market. These improvements line up directly with the key drivers to Agile adoption noted in Figure 1. Agile projects were also seen as significantly reducing risk, however it is unclear how the respondents measured that reduction.
The survey did not ask respondents to try to measure their ability to respond to changing business needs, so the tie to that primary Agile driver cannot be determined. It is this emphasis on measuring business value that will be the key to bringing Agile project success to management's attention. Teams must begin tying their results to specific business-oriented metrics, and not just focus on traditional IT measures.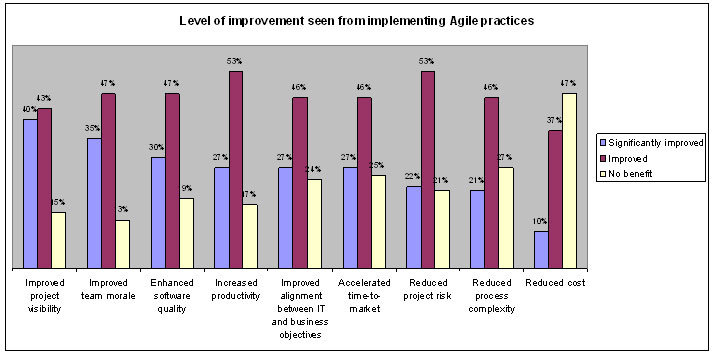 Source: VersionOne Survey
Figure 4: Qualitative level of improvement seen on Agile projects
The survey also asked respondents to estimate specific quantitative levels of improvement (i.e., none, 10%, 25%, or gt;25%) in four areas. From this perspective, approximately three-quarters of those responding estimated at least 10% improvement in productivity, quality, cost, and/or time-to-market (see Figure 5). And among these, over half of the respondents noted improvements of at least 25% improvement in selected areas. Even though these are only IT metrics, they represent sizable benefits achieved on teams using Agile practices. (These results are also fairly close to the levels of improvement found in the 2006 survey.) The key point is that Agile teams -- and development teams in general -- have increased their emphasis in quantifying and communicating the value achieved on their projects.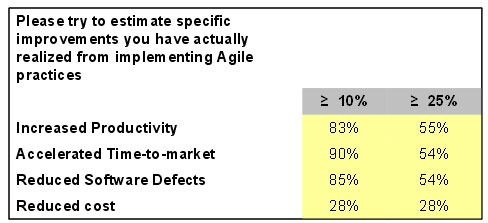 Source: VersionOne Survey
Figure 5: Quantifying improvements on Agile projects
Tools, Tools, and More Tools
The 2007 survey also explored the different types of tools used on Agile projects (see Figure 6). No big surprises here. Bug trackers, spreadsheets, and unit testing tools are predominant; wikis and continuous integration tools are also widely used. Unit testing tools have been in use in large organizations for ages. Agile teams commonly use lightweight open source tools on their early Agile forays, although many corporate shops are pushing their teams to use legacy development tools in this new context. It would also be interesting to correlate the types of tools used against the various Agile methods. There is no way to determine whether tools in this survey are open source or commercial products, and the survey did not ask responders to distinguish between legacy tools being (re-)used for Agile projects versus new tool purchases.
Note that many of the respondents for this survey were VersionOne customers or contacts with an interest in project or team management. Therefore, the high use of an Agile or traditional project management tool is likely skewed to this population.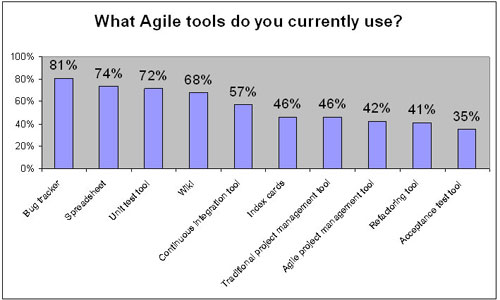 Source: VersionOne Survey
Figure 6: Tools in use on Agile projects
As new vendors enter this market, sizing and market opportunity are frequent factors in potential financing. Respondents in this survey were asked about planned tool use - potentially to help estimate market growth in the tools arena - and areas for which they don't see a need. This would be extremely valuable information, as at this point, valid Agile market data is insufficient at best and usually completely misleading.
Looking Ahead
The Agile community is growing by leaps and bounds. The drivers and benefits are clear and most hurdles can be overcome. The