than less. But in any case, it was critical to the company that we deliver the first game at IR1 with requisite quality. They then presented the "roadmap" which they had developed, based on the outcome of the release planning session (see Figure 5).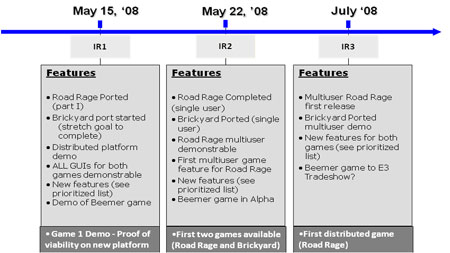 This "plan" sure didn't have much detail and it still wasn't clear what they were going to release to the market and when, but it was clear to me and my team what we had better be doing and we wanted to get the heck back to the office and start now!
We Adjourn
But, before adjournment, Jan and Bill had a few parting comments.
Bill noted that he was asking each team lead to start attend a daily "integration Scrum" that would be held after the daily stand-ups. Since the time schedules varied, this conference call would be held every day at noon Central time. At this meeting, each team was to discuss the current status of its project and to note and resolve any impediments that would prevent the teams from landing the iteration. Since I was an agile team lead, I would be attending, and while this was news to me, it did make sense as I had a number of dependencies on other teams. He committed to the meeting only lasting from 15 to 30 minutes each day.
Jan noted that a release steering committee had been formed, consisting of herself, a number of other managers and directors, and the heads of QA and product management. The release steering committee was going to meet weekly, and would be monitoring the progress of the release and communicating status, any changes of scope, or other issues back to the teams through the integration Scrums and managers. Since the first major check point would be in the two weeks (at the end of the first iteration) she noted that we would have an objective measure of what we had accomplished (i.e., we either did or did not meet the objectives of the first one-third of the plan) and whether we were tracking to the overall IR1 objectives.
Jan thanked us for all our time and hard efforts going into the meeting and said that she appreciated our commitment to the release objectives.
Hmmm, I thought to myself - team empowerment, challenge, visibility, and shared commitment - I think I'm starting to get this agile thing now .................  
---
About the Author
Dean Leffingwell is an entrepreneur, software executive, and technical author who provides product strategy, business advisory services and enterprise-level agility coaching to large software enterprises. Recently, Mr. Leffingwell was founder and CEO of a consumer marketing identity company. Mr. Leffingwell has also served as chief methodologist to Rally Software and formerly served as Vice President of Rational Software, now IBM's Rational Division. Mr. Leffingwell has been a student, coach, and author of contemporary software engineering and software development management practices throughout his career. His latest book, Scaling Software Agility : Best Practices for the Large Enterprises was published by Addison-Wesley in 2007. He is also the lead author of the text Managing Software Requirements, First and Second Editions, also from Addison-Wesley. Mr. Leffingwell holds a Masters Degree in Engineering from the University of Colorado.