Summary:
Continued Delivery of High Values as Systems Age
Many software developers have to deal with legacy code at some point during their careers. Seemingly simple changes are turned into frustrating endeavors: Code that is hard to read and unnecessarily complex. Test scripts and requirements are lacking, and at the same time are out of sync with the existing system. The build is cryptic, minimally sufficient, and difficult to successfully configure and execute. It is almost impossible to find the proper place to make a requested change without breaking unexpected portions of the application. The people who originally worked on the application are long gone.
How did the software get like this? It is almost certain the people who developed this application did not intend to create such a mess. The following article will explore the multitude of factors involved in the development of software with debt.
What Contributes to Software Debt?
Software debt accumulates when focus remains on immediate completion while neglecting changeability of the system over time. The accumulation of debt does not impact software delivery immediately, and may even create a sense of increased feature delivery. Business responds well to the pace of delivered functionality and the illusion of earlier returns on investment. Team members may complain about the quality of delivered functionality while debt is accumulating, but do not force the issue due to enthusiastic acceptance and false expectations they have set with the business. Debt usually shows itself when the team works on stabilizing the software functionality later in the release cycle. Integration, testing, and bug fixing is unpredictable and does not get resolved adequately before the release.
The following sources constitute what I call software debt:
Technical Debt[1]: those things that you choose not to do now and will impede future development if left undone
Quality Debt: diminishing ability to verify functional and technical quality of entire system
Configuration Management Debt: integration and release management become more risky, complex, and error-prone
Design Debt: cost of adding average sized features is increasing to more than writing from scratch
Platform Experience Debt: availability and cost of people to work on system features are becoming limited
Software Debt Creeps In
Software projects are complex. They involve balancing requirements and technology in the pursuit of delivering valuable software for the intended users. At the beginning of new software projects, teams focus on the design. This focus on design early on in the project enables the team to deliver something they are proud of. There is little to no decay in the first feature delivered across a set of architectural components.

Figure 1.1: Focus on good design in first feature of release with little schedule pressure yet.
As the release progress, schedule pressure starts to set in and there is an increasing focus on just getting features done. Software debt starts to creep in as team members look for ways to shave off small amounts of time implementing a feature and leave behind small defects in the software.

Figure 1.1: A relatively new system with little debt accrued.
Figure 1.1 displays a system that has minimal amount of software debt accrued. A few low priority defects have been logged against the system and the build process may involve some manual configuration. The debt is not enough to significantly prolong implementation of upcoming features.
Business owners expect a sustained pace of feature development and the team attempts to combine both features and bugs into daily activities, which accelerates the accrual of debt. Software debt is accruing faster than it is being removed. This may become apparent with an increase in the number of issues logged against the system.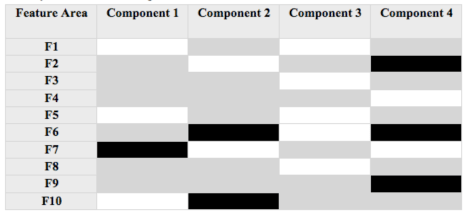 Figure 1.2: An aging software system slowly incurs significant debt in multiple functional areas.
As a system ages, small increments of software debt are allowed to stay so the team can sustain their velocity of feature delivery. The team may be complaining about insufficient time to fix defects. Figure 1.2 shows a system that has incurred software debt across all functional areas and components.
At this point, delivery slows down noticeably. The team asks for more resources to maintain their delivery momentum, which will increase the costs of delivery without increasing