Testing to Meet Cloud Service Challenges
There are a number of layers one can address from a testing perspective:
·       The wide-area network (WAN), providing data communication services between the enterprise customer and the cloud service is fundamental to service assurance and the testing of end-to-end service availability.
·       The data center infrastructure, comprising servers and data communication between servers (LAN), where service availability and uptime of this equipment is key, as well as efficient use of resources to ensure service efficiency.
·       The monitoring infrastructure in the data center that is the basis for service assurance, which itself needs to efficient.
·       The individual servers and monitoring appliances that are based on servers that must also follow efficiency and availability principles to assure overall service efficiency and service availability.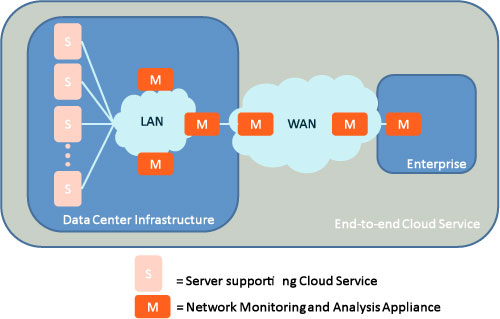 Testing End-to-End
Testing end-to-end availability can be performed first. At a basic level, this involves testing connectivity, but it can also involve some specific testing relevant for cloud services, including latency measurement. Several commercial systems exist for testing latency in a WAN environment. While these are most often used by financial institutions to determine the time it takes to execute financial transactions with remote stock exchanges, these can also be used by cloud service providers to test the latency of the connection to enterprise customers. This solution requires the installation at the enterprise of a network appliance for monitoring latency, which could also be used to test connectivity or for troubleshooting and SLA monitoring.
Typically, the cloud service provider does not own the WAN data communication infrastructure. It is possible, though, to measure the performance of the WAN by providing the data communication service required using network monitoring and analysis appliances at both the data center and the enterprise. The choice of WAN data communication provider should also be driven by the ability of this provider to offer performance data in support of agreed SLAs. In other words, this provider should have the monitoring and analysis infrastructure in place to assure services.
From Reaction to Service Assurance
Network monitoring and analysis of the data center infrastructure is also crucial as cloud service providers need to rely less on troubleshooting and more on service assurance strategies. In typical IT network deployments, a reactive strategy is preferred whereby issues are dealt with in a troubleshooting manner as they arise. For enterprise LAN environments, this can be acceptable in many cases, as some downtime can be tolerated. Downtime is a disaster for cloud service providers, though. Customers will find alternatives or even revert to a local installation if they are not confident in the cloud service provider's ability to assure service availability.
A service assurance strategy involves constant monitoring of the performance of the network and services so that issues can be identified before they arise. Network and application-performance-monitoring tools are available from a number of vendors for precisely this purpose.